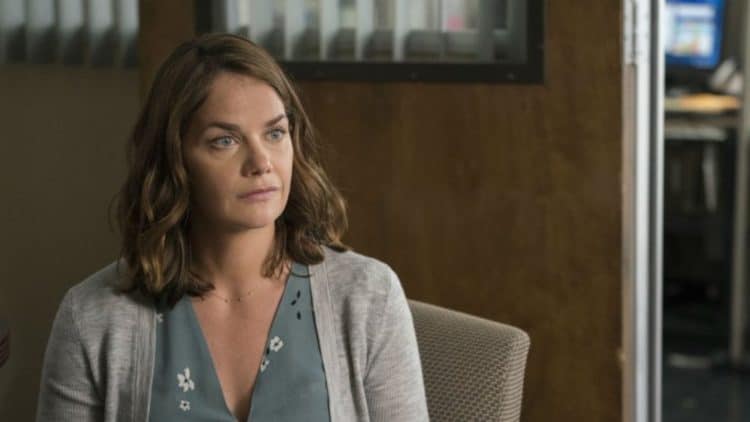 Award-winning actress Ruth Wilson has been in the business since 2006, working her way up the ranks from small roles in minor British sitcoms to leading parts in huge international hits. The 37-year-old can next be seen in the upcoming BBC miniseries, His Dark Materials, the first installment in Phillip Pullman's cult fantasy trilogy. Find out more about the talented actress with these ten little known facts.
1. Her grandfather was a bigamist
Ruth was born in Ashford, Surrey, to Mary and Nigel Wilson. The actress is the granddaughter of Alexander Wilson, a novelist and MI6 agent, and his third wife, Alison McKelvie. As well as writing more than 20 espionage novels about the spymaster Leonard Wallace and the agent Hugh Shannon, Alexander Wilson was kept busy by the demands of his very secret, and altogether illegal, life. When Alison married Alexander in the 1940s, she wasn't aware he'd already been married twice before… and hadn't got around to divorcing either one of his wives. To add insult to injury, Alexander married for a fourth and final time while still being very much married to Alison. Ruth would later re-create the dramatic lives of her grandparents in the mini TV series, Mrs. Wilson.
2. She's a two-time Oliver Award winner
With numerous critically acclaimed performances under her belt, it's little surprise to learn that Ruth has amassed a number of prestigious awards. In addition to winning two out of three Oliver award nominations (the first for Best Actress for Anna Christie, and the 2nd for Best Supporting Actress for A Streetcar Named Desire), she's also been honored with a Golden Globe for her stand out performance in The Affair, and nominations for a British Academy Television Award for Best Actress and a Golden Globe Award for Best Actress – Television Series Drama for the title role in Jane Eyre.
3. She's a keen boxer
In a 2013 interview with The Guardian, Ruth revealed she'd recently discovered a new passion for boxing. "I wouldn't want to do a Mickey Rourke but it's amazing exercise. The whole body gets a workout. It's half an hour but intense; I do it twice a week. I love it," she enthused.
4. Her departure from The Affair is shrouded in mystery
Fans of The Affair were left reeling in 2018 when Ruth revealed she would be departing the show. Save for saying she hadn't wanted her character to be killed off, she still hasn't publicly revealed the reason for her abrupt exit (and has even gone as far as saying she's not allowed to). One of her fellow castmates, Maura Tierney, has, however, weighed in the speculation, giving some insight into the acrimonious split. "The work was certainly very demanding for her. That character was just suffering all the time. I can't speculate as to what happened," she said to Vanity Fair. "This show is very specific. And it's very demanding. And sometimes people have a shelf life for it. I think that's what I would say."
5. She's starring in His Dark Materials
Ruth has just finished shooting her latest project, the first installment of Phillip Pullman's fantasy trilogy, His Dark Materials. Ruth stars alongside James McAvoy and Lin-Manuel Miranda in the TV adaptation of the cult series, which is scheduled to air on BBC1 on Sunday 3rd November and on HBO from the 4th of November. Although the exact budget hasn't been revealed, it's thought the series is the most expensive ever to be filmed by the BBC.
6. Her TV debut was in Suburban Shootout
After graduating from the London Academy of Music and Dramatic Art in 2005, Ruth's first acting job came with Suburban Shootout, a black comedy that aired in the UK for two seasons from 27 April 2006 and in the US from 22 March 2006. The show also starred Anna Chancellor (Four Weddings and A Funeral), Tom Ellis (Miranda, Lucifer) and Tom Hiddleston (Kong: Skull Island, I Saw The Light, Crimson Peak).
7. She keeps her personal life private
Although Ruth has spoken extensively about her family history in interviews, she's notoriously close guarded about her personal life. In August 2016, she was quick to put rumors of a fling between her and The Affair co-star Joshua Jackson to bed with the comment "People don't know what goes on in my private life, so they have to make conjecture from something that is photographed. You don't actually know if I'm single or not. You haven't asked that question, and I haven't told you that answer. I don't talk about it." Along with Jackson, she's also been linked with Jake Gyllenhaal and Jude Law.
8. She made her Broadway debut opposite Jake Gyllenhaal
After working for several years on stage, Wilson finally made her Broadway debut in 2014, appearing alongside Jake Gyllenhaal in Constellations at the Samuel J. Friedman Theatre. The show proved a smash, winning a Theatre World Award and giving Ruth her first Tony Award nomination for "Best Performance by an Actress in a Leading Role in a Play." She returned to Broadway in April 2019 as The Fool/ Cordelia in King Lear.
9. She can shear a sheep
With the opportunity to play a host of very different characters comes the chance to acquire some very diverse skills. In Ruth's case, one of the strangest skills she picked up is the ability to shear a sheep, something she learned during the filming of Dark Water. "You have to wear these special shoes, and then you get them between your legs, and there's a way of turning them around and keeping the skin taut so that you don't nick it," she explained to The Guardian. "I was dead nervous, but you have to act like you know what you're doing so they give in to you."
10. Her Net Worth
Thanks to her extensive list of credits, Ruth has earned herself a very respectable fortune. As of October 2019, Celebrity Net Worth estimates her net worth to be around $3 million.