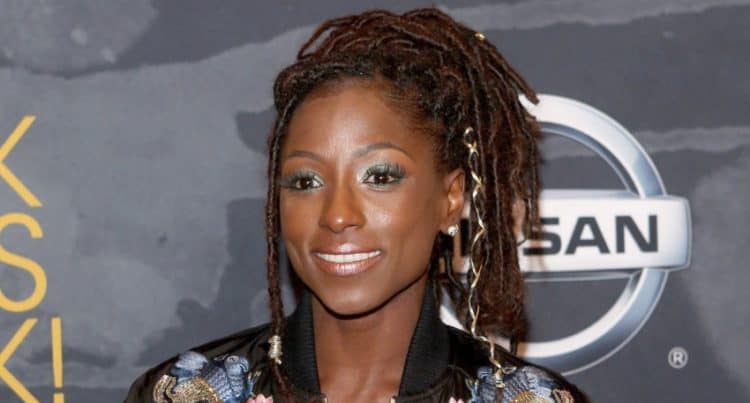 Sometimes it seems that show business runs in the blood as it seems to with Rutina Wesley. It can take a lot of different forms and yet it remains the same, people want to get the attention of others and in turn will do so by giving performances that will entertain the audience they desire. That's a lot of what show business is about, getting the attention of the audience in the hopes that they'll get paid. And those that do it well are the ones that tend to get paid the most since more and more people want to see them. You might need to look up just who Rutina is and what she's done but all that tends to mean is that you don't happen to watch the type of shows she's in or perhaps don't watch the stations she's featured on. Finding her is pretty easy since she's a fairly popular actress.
Here are a few things you might not have known about her.
10. Both her parents were dancers.
Her father was a tap dancer at one point and her mother was a Las Vegas showgirl so you can see where she likely got her love for performing. While she might not be the dancer that they were in their glory days she did manage to get herself an audience and find another way to entertain them. That's what really counts, getting people to pay attention so that your reputation will grow.
9. She earned her BA in Theatre Performance.
I could say that this is nice to see but quite honestly the fact that a lot of actors have degrees in other disciplines and are still quite skilled at what they do is just as pleasing. The fact of the matter is that seeing entertainers that are educated and didn't drop out is kind of preferable, though many that did such a thing do manage to go back and finish their education.
8. She's been a stage actor.
I've said it before but honestly it almost seems as though actors, no matter where they come from or what background they have, should need to have at least a couple of stage performances under their belts just to get the feel of it and the idea of what's expected when they step out in front of an audience, or a camera.
A world in which vampires are known to human beings and have a synthetic blood substitute still seems like an awkward and scary place since it seems too much like letting a lion into a deli based on the fact that there's a meat substitute that they're just as happy with.
You know fans love a movie when they go ahead and make a movie about it, as this show takes off using characters out of Red Dragon and Hannibal, which were both made so great by Anthony Hopkins' iconic character. Of course Mads Mikkelsen takes over in this version and to be honest he's no less creepy.
5. She's in Queen Sugar.
This show has a lot to do with a family sugar cane farm that a small group of estranged siblings have to come together in order to preserve so that it's not lost entirely. It's kind of interesting how families grow apart but find the need to come together in times of crisis.
4. She attended Juilliard.
This is a huge endorsement for the career of any actor or musician or artist that manages to first get into the school and then graduate from it. In some ways it can be like a golden ticket if the student actually learns something upon exiting.
3. Her career started in 2005.
At this point a lot of those that entered the industry in the early 2000s are starting to see their careers rising while others might have been a flash in the pan. Rutina isn't a flash in the pan by any means but hers seems like a slower and gradual rise as she continues to move forward with her career.
2. She has a pretty big following on social media.
She's not that far away from two hundred thousand followers but the size of her following is still pretty big and one has to wonder if she ever gets to even half of the comments that come up on her feeds. It's also interesting to wonder if she has PR people to deal with that since it seems like it would be more sensible.
1. She divides her time between Los Angeles, CA and Queens, New York.
This seems as though it might be dependent on if she has time off or has to be in either city for a job as going back and forth can be kind of an arduous journey at times.
She's definitely one of the many stars that you'd have to look up if you don't watch the shows she's in.