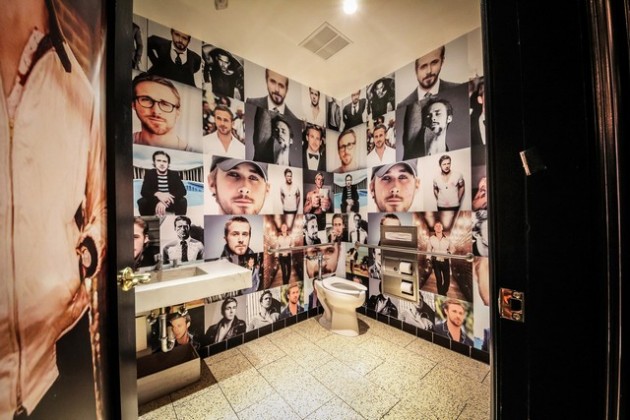 This restaurant has a Ryan Gosling bathroom. Yes, you read that correctly.  How could we not post this news? This photo proves that the women's bathroom in the Bang Bang eatery in San Diego is plastered from floor to ceiling in photographs of the Canadian-born movie, once television star.  Suffice it to say the shrine-like room has become a smash hit on social media with female fans lining up to snap pictures of themselves surrounded by The Notebook star, Ryan, 33.  Rumor has it that men have snuck their way into the bathroom to take pictures as well.
A source at the Asian fusion restaurant said: "It's pretty special." Speaking of special, the restaurant also features a Hello Kitty bathroom.  So you're at a restaurant and you have a choice.  Do you want to be surrounded by multiple pictures of Ryan Gosling or Hello Kitty?  I think in either case it's a little weird having all of those faces stare at you.
Meanwhile, we here at TVovermind wish Ryan Gosling well on his impending child with Eva Mendes.  All signs are saying that the unborn child is healthy.  Non verified sources (as in us) are saying that this child has the potential to be one of the most good looking and talented people on the planet.   Said child will also probably be on the Disney Channel and represent Revlon some day.  As far as we're concerned, that a deadly combination.
Image via Splashnews