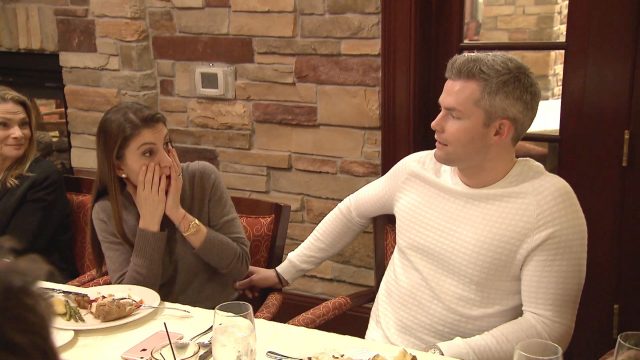 Last week showed us some serious fireworks as Ryan Serhant and pending wife Emilia are feeling the pressure of their pending nuptials. What was considered one of the biggest blow ups ever happened as Ryan's looming pressure of work led to a very testy exchange. With only a few months to go before they leave for Greece, Ryan and Emilia realize that they may have been too optimistic when deciding to plan their special day on their own. Ryan's new building in Greenpoint is occupying all of his time, and Emilia becomes overwhelmed with a growing to do list. When Ryan's work starts to take total precedence over his life, everything becomes complicated…including their relationship. Fast forward to this week?
Here's what's on tap this week:
Does the world Greek Orthodox baptism scare anyone? It should. According to Bravo,
Ryan's work has gotten in the way of him participating in the planning, and a trip to Wisconsin to see his grandmother for her 90th birthday couldn't have come at a worse time. Once they return to New York City, his listing continues to interfere with their relationship. Ryan quickly realizes that if he doesn't change something big — and soon — he could lose Emilia forever.
Here's where Ryan drops a serious bomb on Emilia. Basically Emilia is under the assumption that Ryan is going to be baptized Catholic. Nope. Let's put the brakes on that says Ryan. He tries to play it down by saying it's all the same. Emilia doesn't exactly look encouraged. And we can only assume from the teaser description that things are going to go completely downhill from there. If Ryan is in danger of losing Emilia, what will he do to salvage the couple? Should be interesting……