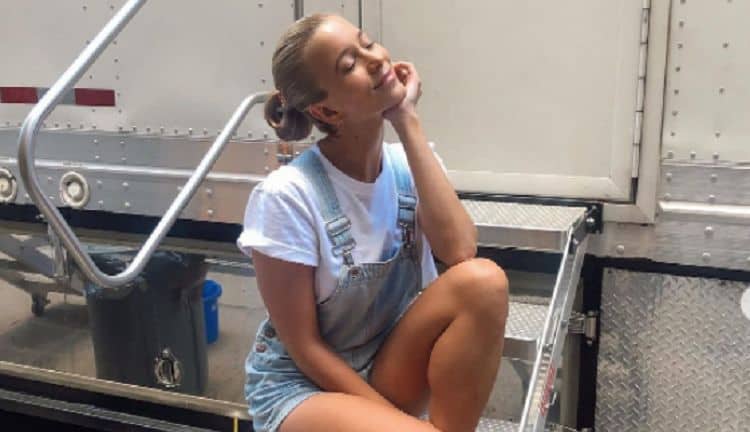 Sabina Gadecki is young, beautiful, and talented which is often as good as gold in the entertainment industry. For more than a decade, she has been working hard to make her mark and she's covered a lot of ground so far. To date, her acting resume includes nearly 30 on-screen credits, and the list is only going to continue to grow. Some of her most well-known appearances include L.A.'s Finest and Finding Carter. Sabina also has two movie projects in the works that are sure to help grow her career even more. You may not be familiar with her name just yet, but in a few years you'll probably be hearing it everywhere. Let's get into 10 things you didn't know about Sabina Gadecki.
1. She Is A Massachusetts Native
Sabina was born and raised in Massachusetts although her family's roots are in Poland. She attended Chicopee High School before enrolling at Hollyoak Community College. Although she will always be proud of where she's from, Sabina knew that she had to relocate in order to pursue her dreams.
2.  She Has Struggled With Depression
From the outside looking in, it's easy to believe that Sabina is the kind of person who is always happy and positive. However, in a Q&A on her Instagram profile, she revealed that she went through a period of depression. She didn't go into any additional details about that time in her life.
3. She Studied At Fordham
After finishing her studies at Hollyoak Community College, Sabina went off to Fordham University where she majored in international business and communications. She ultimately decided to leave school when she was just a few credits shy of graduating because her modeling career had started to take off.
4. Family Is Important To Her
Sabina comes from a very close-knit family, and she's thankful to have had their support throughout all the years. Sabina has at least one brother and we also know that she has close relationships with her parents. She is also happily married to musician Tyler Rich.
5. She Is A Brand Ambassador
Thanks to her success as a model and an actress, Sabina has been able to build a very large fan base that includes people from all over the world. This fan base has also translated into a large social media following. Thanks to her following, Sabina has gotten the chance to collaborate with brands to help market their products and services.
6. She Likes To Travel
Sabina has a very adventurous spirit, and she's always looking for ways to make the most out of every moment. Traveling has become a great way for her to do that. She has gotten to visit all sorts of places both in and out of the United States. No matter where she goes, though, Sabina loves to be near the water.
7. She Inspired Some Of Her Husband's Songs
When Sabina and Tyler Rich started dating back in 2016, it didn't take long for people to start referring to the couple as #goals. Since tying the knot in 2019, they appear to be stronger than ever and their relationship has played a huge role in Tyler's career. She has become Tyler's muse and has inspired some of his newer songs including "Leave Her Wild" and "Better Than You're Used To". In an interview with E Online, Tyler said that Sabina inspires him "daily on every level".
8. She Is A Dog Person
All of the dog lovers out there will be happy to know that Sabina is a proud dog person. During her Instagram Q&A she shared that dogs are her favorite animal. She also had an adorable dog named Charlee who had become her best friend over the years. Sadly, he passed away in 2020.
9. She Likes To Sing
As someone who is married to a famous musician, it goes without saying that Sabina spends a lot of time around music. However, her love for music isn't just tied to her relationship. Sabina may not have the best singing voice, but she still likes to sing for fun and sometimes she even shares videos of herself singing on social media.
10. She Is A Formally Trained Actress
There are some people who may think that Sabina has only gotten acting opportunities because of her good looks, but many don't realize that she's put in a lot of hard work to sharpen her acting skills. Although she didn't go to a traditional drama school, Sabina studied acting under William Esper for four years before she decided to relocate to Los Angeles.