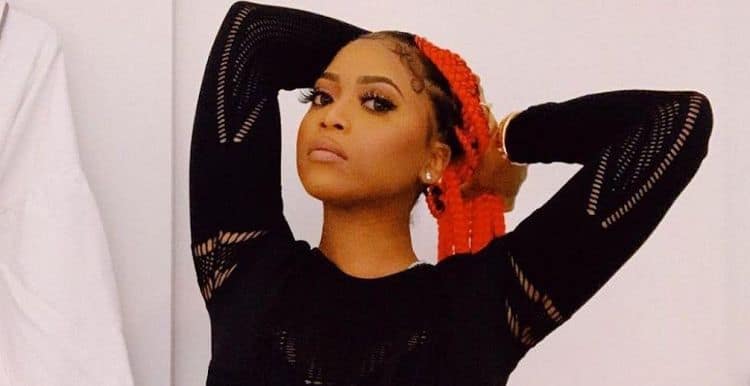 If you're a fan of the WE TV series Growing Up Hip Hop, you've probably noticed that a few new cast members have been introduced this season. One of them is up and coming artist, Sakoya Wynter. As the daughter of an R&B legend, Sakoya is working hard to create her own path. Despite the fact that there may be some pressure to live up to her dad's success, she doesn't seem intimidated at all. Even though Sakoya is new to the show, she has already made it clear that she has no problem shaking things up. It's unclear whether she'll be a permanent fixture on the show, but either way, she's already left a lasting impression. Keep reading to learn 10 things you didn't know about Sakoya Wynter.
1. Her Father Was In Jodeci
If you're a fan of 80s and 90s R&B, then there's a very good chance that you've heard of Sakoya's father, Joel "JoJo" Hailey. He was a member of the popular R&B group Jodeci, and is also 1/2 of the duo K-Ci and JoJo. Sakoya's father has been instrumental in helping her get started with her own career.
2. She Started With Writing Poetry
Sakoya isn't just a performer, she also writes a lot of her own music. Writing is something that she's been doing for most of her life, and it began with poetry. She told The Hollywood Tribune, "The poetry that I used to write, I kinda wanna say it was more about earthly things, experiences and love *chuckles* It's so crazy, when you're a little kid, you think you know so much about love. So, I was writing a lot about all of these things. That's mainly what I was writing about."
3. She Has A YouTube Channel
Having an online presence is one of the most important keys to success in the entertainment industry and Sakoya is in the process of making her presence known on the internet. She started a YouTube channel back in 2015 but unfortunately, she hasn't been very active on the platform. Hopefully she starts posting more content soon.
4. She's Rubbed Some GUHH Fans The Wrong Way
Sakoya hasn't spent a lot of time on Growing Up Hip Hop, but she definitely entered the show with a bang. During her first episode, she expressed that there was some tension between her and one of the show's stars, Angela Simmons. She also got into a little back and forth with Angela's sister-in-law, Tanice Simmons, in a later episode. Some of the fans aren't really appreciating the energy she's brought to the show so far and they feel that she is adding unnecessary drama.
5. She's A Proud Mother
Sakoya's music is very important to her, but nothing means more to her than being a mother. During her time on Growing Up Hip Hop, she has revealed that she is a proud mother. However,  she didn't provide any additional information on her child. She did mention that Angela Simmons was in a relationship with her child's father, but she didn't reveal the identity of the man. According to Distractify, Sakoya's baby father is former NBA player, Brandon Jennings.
6. She Loves Fashion
No matter the event or occasion, you can trust that Sakoya is always going to show up and show out. She has a great sense of style and she enjoys using fashion as a way to express herself. She isn't afraid to try different looks and she always manages to pull them off very well.
7. She's A Private Person
As someone who grew up with a father in the spotlight, some people might expect Sakoya to love getting attention. That doesn't seem to be the case, though. While it's true that she wants to be recognized for her music, she doesn't appear to have an interest in putting all of her personal business on front street.
8. GUHH Is Her Only TV Experience
Getting the chance to do a reality show has been a special moment for Sakoya. From what we can tell, Growing Up Hip Hop is the first TV show Sakoya has done. As her music career continues to grow, there will likely be more opportunities for her to be on TV in the future.
9. She's Released Some Music
The song Sakoya performed at the showcase on Growing Up Hip Hop isn't the only thing she's done so far. Even though she's still very early on in her career, Sakoya has already put out some music of her own. Her music is currently available on both Spotify and Apple Music. She hasn't released a full-length project yet but she definitely has something in the works.
10. She Has Some Advice For Up And Coming Artists
Sakoya may not be where she wants to be in her career yet, but she already has a good idea of what it takes to make it. When asked if she has any advice for up-and-coming artists, Sakoya told The Hollywood Tribune, "I would tell them to be very passionate about it, be devoted, stay consistent and don't give up. It's gonna be a lot of no, but there are a lot of yesses as well. Mainly, you just have to believe in yourself. And then everything else will fall in line."