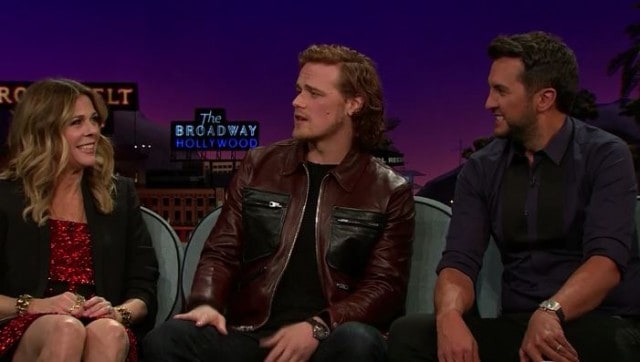 Outlander actor Sam Heughan and country music star Luke Bryan both have some very passionate female fans, and they're very grateful for them. However, as the two of them explained on The Late Late Show With James Corden last night, there can be some occasions where the attention and the affections is almost too much too handle.
So far, that hasn't exactly happened yet for Heughan, as he told Corden that he has never received any "weird" attention from female fans. Even though the Outlander star seemed a little uncomfortable with all the applause and the talk about his looks, he only expressed his love and appreciation for the show's fandom.
"It's fantastic," Heughan said about the Outlander fans. "We have these amazingly dedicated fans. We're shooting in Scotland, in the Highlands, on the top of a mountain, or next to a loch, and we have friends that turn up, and they bring baked goods, a lot of cookies, muffins. I'm surprised they're not here today."
Bryan also shared how much he loves his female fans, but that he does have to set a few for rules for meet-and-greets to keep some of the more "enthusiastic" ones under control. What's the main rule? They can't touch his butt.
"There are quite a few wandering hands," Bryan explained. "And I'm sitting there doing the meet-and-greet, and I'm like, 'Yup, she's got it.'"
Watch Sam Heughan and Luke Bryan talk to James Corden about their fans in the videos below:
[Photo via YouTube]