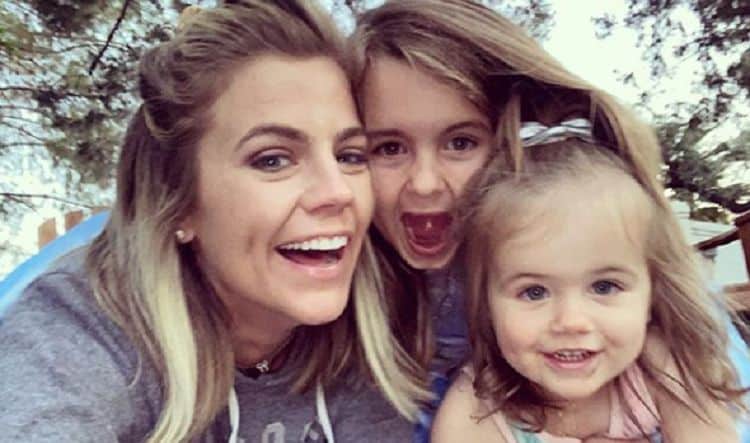 Being in the sports broadcasting field has made Samantha Ponder develop thick skin since not everyone is her fan. The woman knows her worth and believes it is not her good looks that got her to where she is today; she has been working hard ever since she knew a career in sports was meant for her. After juggling studies and a job while in college, Samantha is now the host of ESPN's Sunday NFL Countdown. Let's see how her work affects her and how she balances being a mother, wife, and career woman.
1. She has been a victim of trolling
It is said that whatever a man can do, a woman can do better, but it is only a statement that is taken positively by females since men seem to have a problem with it. Therefore in 2017 when Samantha was rumored to be replacing Chris Berman on the NFL Countdown pregame show, she got loads of negative tweets. One person said that she can talk about Sports only if she has ever carried a football while another added that she knows nothing about sports and is not a talented reporter. Fortunately, the anchor received positive remarks in equal measure.
2. She does not let parenthood interfere with her job
Samantha wanted to be involved in her daughter's life as much as possible, knowing just how fast children grow. Therefore she went to the executive producer and told him that she would like to be traveling with her daughter, and luckily, he agreed for as long it would not interfere with her work. That said, Scout has been to many of ESPN's game night sites. Samantha always had her mother travel with her so that as she went about her job, then Cindi Steele would be looking after Scout. Although ESPN has been understanding, Samantha said that she never took their kindness for granted.
3. Her biggest struggle as a parent
It is the joy of every parent to be there when the baby is making its milestones, but sometimes circumstances beyond our control make us miss out on those special moments. Samantha tried as possible to be around to see her firstborn daughter grow. Unfortunately, her husband at the time was busy playing football while Sam was moving around due to her job assignments. Since she could not be with her husband, Sam felt the inner struggles of knowing her job was separating her daughter from her father. She recalled that the first time Scout rolled over, Christian was not around to see it.
4. Her greatest joy of motherhood
Not every family comes with a set of two parents, and Samantha is grateful that she has a husband who enjoys spending time with his children. As she told Sports Illustrated, Christian is the best father in the world and watching him spend time with Scout is the greatest joy as a mother.
5. She has strong faith in God
Samantha was exposed to Christianity at an early age, and she says that she has never met anyone who loves God as much as her parents. She believes that everyone she has met has been put in her path by God for a reason. Her parents are the founders of M.A.D. Ministries, which offers college scholarships, education, spiritual guidance, athletic training, and housing for young people. Her religion has, however, attracted criticism from people like Dan Katz of Barstool, who called her a "Bible-thumping freak," saying that he does not want to watch GameDay and have Samantha talking about God.
6. She knew she would be a sports broadcaster in third grade
With a father who was and still is a coach for both basketball and football, Samantha and her siblings enjoyed playing three different sports every year. Sports became her identity that she did not want to lose upon growing up; hence she knew that she wanted to pursue a career in sports. However, it is not until in third grade that Samantha was sure about becoming a sports broadcaster.
7. She once lived in her car for a few weeks
We have all heard scary stories of people who had to live on the streets because they barely had any money to afford rent. Others like Kelly Clarkson and Jewel lost their apartments and had to live out of their cars as they waited for their big breaks. For Samantha, it is not the lack of money that made her live in her car; she admitted she was just cheap. At the time, she already had a job at ESPN but lacked a taste for the finer things in life.
8. How she got into television
Knowing what you want and getting it are two very different things; therefore, as much as Samantha wanted to be a sports broadcaster, she had to look for a way to be on television. When ABC and ESPN were merging, Samantha was in college and got an internship. She worked with Craig James, John Saunders, and Doug Flutie, who encouraged her to shadow them until she got all the skills needed. The three were kind enough to help Samantha make a demo tape after spending three years being their research assistant and intern. According to HuffPost, after sending the tape, Samantha got a job at Liberty to cover sideline for football and basketball.
9. She knew Christian was the one for her immediately
In 2012, Christian began sending Samantha messages on Twitter with random questions, which to Samantha seemed weird. However, they established a connection, and by December 2012, they were engaged. For Samantha, she knew that Christian was her Mr. Right after having had experience dating men who made her realize what she did not want in a man.
10. She got married in jeans and a sweatshirt
Unlike most little girls who dream of having fairytale weddings, Samantha never bothered with such details. Consequently, even on her wedding day, it was no big deal where the wedding took place. She was in jeans and a sweatshirt when Christian picked her up from the airport. They then drove to Hudson and had a civil marriage ceremony without even telling their parents.