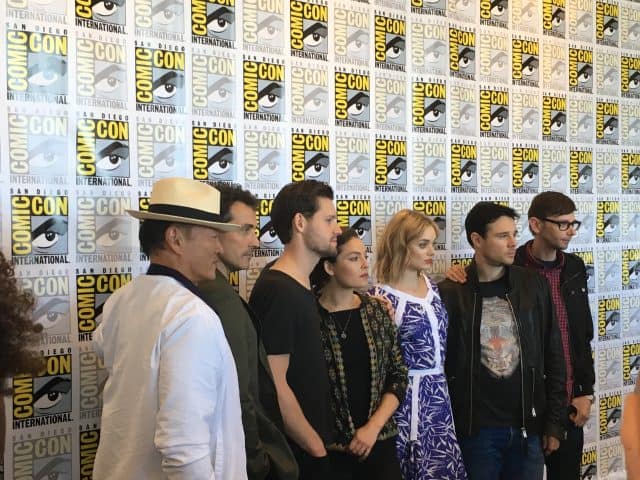 At San Diego Comic-Con, I had the opportunity to talk with several stars of my favorite shows. At the press room for Amazon's The Man in the High Castle, I spoke with series stars DJ Qualls (Ed) and Rupert Evans (Frank) on what's next for their characters, and for the show as a whole in Season 2. 
(By the way, this whole sit-down started with DJ Qualls telling us a hilarious story about a trip to Graceland he took as a child. I won't get into it but if you ever meet him, ask him.)
First thing's first, the stuff that everyone wants to know, what's coming up in Season 2. DJ Qualls told us that his Ed's minimal existence no longer works. "Fissures are forming," Qualls said. "that pushes us all further away from each other."
Ed's friendship with Frank creates some additional issues for him, as we have already seen the beginnings of in Season 1. "As I go along with him, I start to resent him," Qualls told us. Though the Frank and Ed relationship appears to be instrumental to both characters in the coming season. The friendship for Frank and Ed is "based on time", but "the circumstances around that relationship change, and that's what we see in Season 2," said Qualls.
Things are starting to change as characters can no longer keep their heads down and lead quiet lives. As the cracks begin to show in the Japanese and Nazi regimes, the characters change, and not always for the better. "Change makes you angry," said Qualls. He also said adapting and reacting to those changes is "the feel of season 2 for every character." Sounds like Ed and Frank aren't the only ones struggling with change!
Rupert Evans was able to offer some additional teases about Frank and what's coming up in Season 2. Change appears to be a constant theme. As you can probably imagine,"there's a huge fallout from the end of Season 1," said Evans. "From that [fallout]" Evans continues, "everything's changed for everybody really. For me. For Ed."
As for Frank himself, and how he develops. Frank "starts to make choices, as opposed to fit in and conform", teased Evans. "He will stand up and have an opinion," which is in great contrast to the peacekeeping, trouble free Frank we saw in Season 1.
As you can see, there is plenty of exciting material in store for Frank and Ed when the show returns. I truly enjoyed speaking with these two, and I can't wait for the show to return.
What do you guys think? Are you more or less excited for the show to return? Let us know in the comments!!
The Man in the High Castle returns Fall 2016 to Amazon Prime.