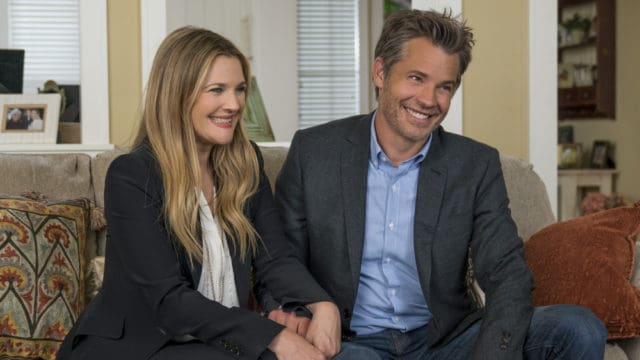 Can't get enough of Santa Clarita Diet? Netflix has announced that they will be bringing the comedy back for a third season. The series will bring us 1o half-hour episodes in early 2019. Drew Barrymore and Timothy Olyphant will be back reprising their roles as dead wife Sheila and husband Joel, who will stick by her side no matter what.
While Netflix does not reveal overall viewership of their series, a third season renewal for Santa Clarita Diet must mean the show had been performing well since its season two premiere date back in March. The comedy has a respectable 7.8 rating on IMDB.com and an 82% approval on RottenTomatoes.
The first season of Santa Clarita Diet focused on Sheila dealing with being undead and learning how to feed. With the help of Joel and daughter Abby (played by the talented Liv Hewson), Sheila starts picking off the horrible people of Sanata Clarita that no one will really miss if she eats them.
Season two of Santa Clarita Diet highlighted more of the backstory of how Sheila became a "zombie." She and Joel even found out that there are other dead people in the area. They share a commonality from eating clams at a nearby restaurant. The season ended with Police Officer Anne (Natalie Morales) learning Sheila's secret and believing she was sent to Earth by Jesus.
Santa Clarita Diet has had its fair share of guest stars over the first 20 episodes. Nathan Fillion, Andy Richter, Zachary Knighton, Portia De Rossi, and Joel McHale have all appeared. Hopefully season three will treat us to more guest appearances.
The awesome news of a renewal of Santa Clarita Diet came days after Netflix announced that another popular comedy Unbreakable Kimmy Schmidt would be ending once its fourth season wraps later this year. However, Tina Fey and Robert Carlock are in talks to make a movie to wrap up any loose ends with the gang we have grown to love.
Are you excited that Santa Clarita Diet will be back for a third season? Let us know in the comments section below.
Photo by: Netflix