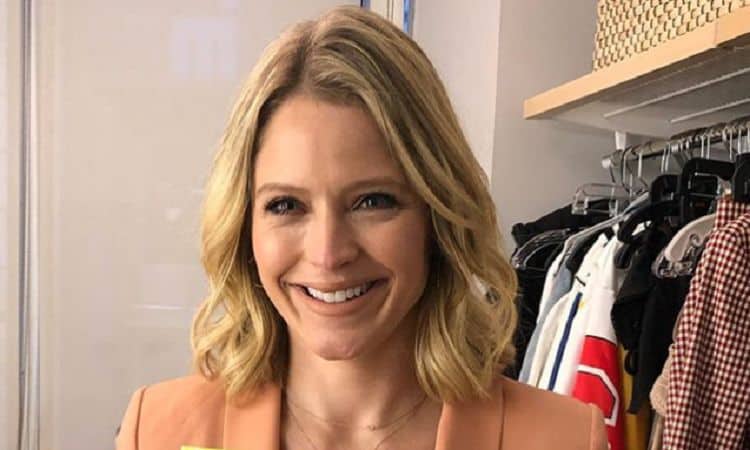 Sara Haines is an American journalist who has appeared on a variety of different television news shows. She is best known for her correspondent work on "Good Morning America," "ABC News," and "Today." She is a familiar face to most Americans who like to catch the news daily. She maintains a strong focus on reporting breaking news events, but viewers and her fans don't often get much information about her. We investigated her life and career to learn more about his beloved television journalist and found these 10 things you probably didn't know about Sara Haines.
1. Her birthday
Sara was born in Newton, Iowa on September 18, 1977. She turned 42 years old in the Fall of 2019. Her parents named her Sara Hilary Haines. She grew up in the city of her birth along with her three siblings. She graduated from high school then went away to college. She was accepted at Smith College in Northampton, Massachusetts. She studied in the Government program and graduated with her Bachelor of Arts degree in 2000.
2. Sara was athletic
While working on her college degree, Sara was involved in extracurricular activities. She was an active member of two athletic teams at Smith. She played volleyball and basketball. She has a competitive nature, which is an asset for anyone who is entering the field of television journalism.
3. Haines is married
Sara has been happily married for just over 5 years. She married Max Shifrin, an attorney on November 22, 2014. The couple held their wedding ceremony in The Bahamas, then established their home in Brooklyn, New York. In March of 2016, they welcomed their first son, Alec Richard into the world. He was followed by their daughter Sandra Grace in December of 2017. Their third child was born in June of 2019, a son they named Caleb Joseph. Sara has her hands full with three young children, all under the age of 5.
4. Sara Haines worked her way up in the news business
Haines launched her career with a job on the NBC Page Program, where she spent 9 months. She was then hired on the NBC "Today at Rockefeller Center" as the production coordinator in 2002. She became a contributing correspondent for the show from 2009 through 2013. When we look back over her career we see that she followed a sound pattern of moving up to better opportunities after she gained experience from lower-paying positions. She has put in years of hard work to get where she is today.
5. She gained notoriety on "The View"
Sara became a co-host of the popular daytime news show "The View." She joined during the 20th season and stayed through the 21st. This gave her more steady exposure to the large audience of viewers and fans of the program. From there, she went on to co-anchor ABC's "Strahan, Sara and Keke, a daytime talk show. She joined the team at "ABC News" as a correspondent adn "Good Morning America" news anchor for the weekend shows in 2013. She stayed at the latter post until 2016. Most recently, she accepted the job of co-host of "GMA Day" in September of 2018, and the show was renamed "Strahan, Sara and Keke in the fall of 2019.
6. She has is a celebrated journalist
Sara has done a great job of reporting on relevant news topics and she has been officially recognized for her contributions to several different programs. Although she has yet to win an award, she has accomplished the next best thing. She has received nominations that have put her in the same category as some of the most famous journalists of our time. In 2017 she was nominated for a Daytime Emmy Award for Outstanding Entertainment Talk Show Host. In 2018, she received a second nomination for the same award.
7. Sara is popular on social media
We took a look at her Twitter account and saw that Sara Haines currently has 553.2k followers on her page. This is more than half a million and it gives us an idea of how many fans she has out there. The Tweets that she posts mostly revolve around her beautiful young children and encouragement for mothers of young children. This is a great resource for staying up with current news about families and more.
8. She is a committed mom
We can tell just by reading Sara's tweets that she is a dedicated mom. She has been spending a lot of time home with her babies and caring for them. While there are a lot of celebrities who are gone much of the time and hire others to care for their young children, it's very clear that Sara is in there doing the hard work of raising three little ones and although she gets tired like anyone else, she is loving it.
9. There are rumors of a return to "The View"
Sara Haines' fans want to see her back on "The View." Sara has returned temporarily to fill the seat vacated by Joyce Behar who is staying home at the request of her daughter. When fans saw that Sara was back, they took to social media to share their delight. The overwhelming consensus is that they want her to make the return a permanent thing in the fall. So far, we have not heard whether Sara is considering making the move or not.
10. Sara has a great resource for fans
If you're a fan of Sara Haines then she has set up an Instagram account that has some truly amazing photos of her. She has a little over a quarter of a million followers on the page. We were blown away when we found this treasure trove. If you want to see some great photos of her cute babies, along with pictures of her going about her everyday life and career photos, this is the place to be. It's obvious that she is giving fans what they want to see, and for that we're thankful.