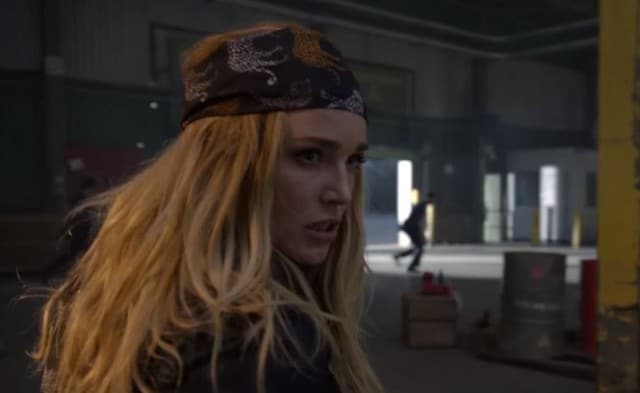 DC's Legends of Tomorrow has already shown us new sides to Hawkman and let us learn more about Hawkgirl, but the series' latest promo re-introduces us to a familiar face, who is now going by a new name. I'm talking, of course, about Sara Lance, who fully transforms into White Canary in the newest teaser for The CW's Arrow and The Flash spin-off.
The video below begins with the Lance sisters together again, as Laurel shows Sara her new suit. One thing the younger sister notices right away, though, is that it doesn't come with a mask.
"You don't need it anymore," Laurel tells her. "You've lived in the shadows long enough."
The rest of the Legends of Tomorrow promo shows us White Canary in action, illustrating her terrific fighting skills (which we already knew about) and her desire to go "get weird in the '70s." And just like Hawkman and Hawkgirl, she gets several different descriptors, from "rebel" to "fighter" to "assassin," before ultimately being called a "legend."
DC's Legends of Tomorrow kicks off on Thursday, Jan. 21, at 8 p.m. on The CW. Check out the new, Sara-centric promo below, along with The CW's full description of the series.
In DC'S LEGENDS OF TOMORROW, when heroes alone are not enough… the world needs legends. Having seen the future, one he will desperately try to prevent from happening, time-traveling rogue Rip Hunter is tasked with assembling a disparate group of both heroes and villains to confront an unstoppable threat – one in which not only the planet is at stake, but all of time itself. Can this ragtag team defeat an immortal threat unlike anything they have ever known?

DC'S LEGENDS OF TOMORROW stars Victor Garber ("The Flash," "Alias"), Brandon Routh ("Arrow," "Superman Returns"), Arthur Darvill ("Doctor Who"), Caity Lotz ("Arrow"), Ciara Renee ("Pippin"), and Franz Drameh ("Edge of Tomorrow"), with Dominic Purcell ("The Flash," "Prison Break") and Wentworth Miller ("The Flash," "Prison Break").
[Photo via YouTube]