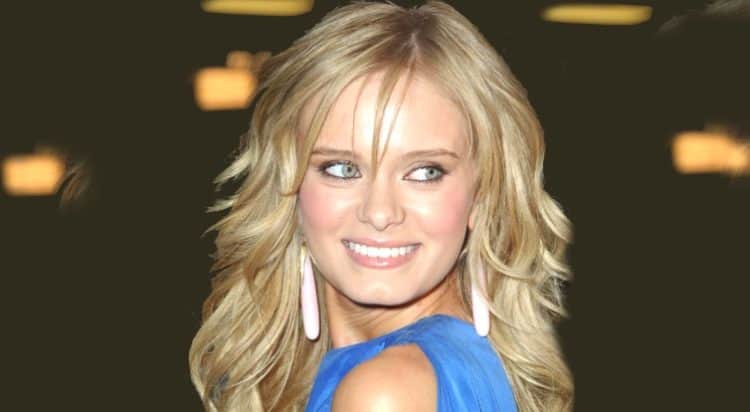 Sara Paxton was that kid that wanted to perform so badly that she would dress up as one of her favorite characters when she went to school. In many cases she seems as though she was that person who many people thought celebrated Halloween on a continual basis, but she really just wanted to be an actor. Thankfully her persistence paid off and she started her career in 1996 when she was just 8 years old. As you can guess that went a little slowly but things started picking up with the more roles she took on and eventually she began to see a bigger return for her efforts as she continued to grow and expand her skills into something that could be used on a regular basis. At this point in her career she's pretty well-known, but given how many actors there are in show business she still might need just a little extra push from time to time.
Here are a few things you might not have known about her.
10. She started out acting in TV commercials.
It'd be a little difficult to find such archived footage at this point but Sara did get the chance to start acting as a kid which possibly helped her to gain the added confidence she might have needed in order to get her career going.
9. She was one of the extras in Liar Liar.
There were a lot of extras for this film, kids especially since they were a big part of the theme thanks to Max, who made the wish that actually created the hilarity in the movie. Picking her out might be difficult but she was at the birthday party and the school.
8. Goldie Hawn and Reese Witherspoon are her biggest inspirations.
Both actresses are great inspirations for many people as they both exude class and a level of success that is hard to match. She's actually expressed that she would love acting with both women at some point in her career.
7. She's been seen in several TV shows.
Sara has been kind of busy throughout her career, showing up in one series before moving on to another. Keeping herself moving from place to place has definitely helped gain more exposure but it's also been allowing her to sample different experiences as well.
6. She was a model at one time.
This seems to be a staging career for a lot of actors as men and women alike have been seen to come from modeling and make their way into acting. There is a level of confidence that comes with both professions and allows actors that come from such gigs to benefit from having been in front of discerning viewers.
5. She was in Return to Halloweentown.
The one drawback of a place like Halloweentown is that there's always going to be someone that wants to take the power that seems to exist in droves and use it to subjugate those that won't bow willingly to them. Marnie of course is at the heart of the matter but all she wants to do is go to school and become the best witch she possibly can. That's a little difficult when her family name means that she's bound to inherit a prophecy she knew nothing about.
4. She loves playing video games.
It's not always an age thing when it comes to video games since they are a lot of fun to play and if you have a favorite type of game there are usually dozens if not hundreds of titles to pick from for your enjoyment.
3. She was in the marching band in high school.
The marching band kids used to be mocked relentlessly back in the day since it wasn't an activity that was held in high esteem. But if you've ever seen the amount of work most marching bands put in then you might have been one that changed your tune since it's a lot of work for not a lot of reward.
2. She's into classic rock.
I have to say it: someone raised her right. Of course one's taste in music isn't indicative of their upbringing or how good it was, but seeing someone that was raised in the 90s love classic rock is still great since it means that the culture hasn't died out and is in no danger of doing so. After all, classic rock is one of the precursors to what we have today in the music industry, and in some cases it's very preferable.
1. She was in Shark Night.
If you're looking for a movie with a lot of story and passion you kind of came to the wrong one since this is the typical shark film that features women in bikinis and bloodthirsty sharks that are after them for no better reason than to show a great deal of carnage. But if that's the movie you wanted then enjoy.
She is a talented actress, so it will be interesting to see how her career continues to build.