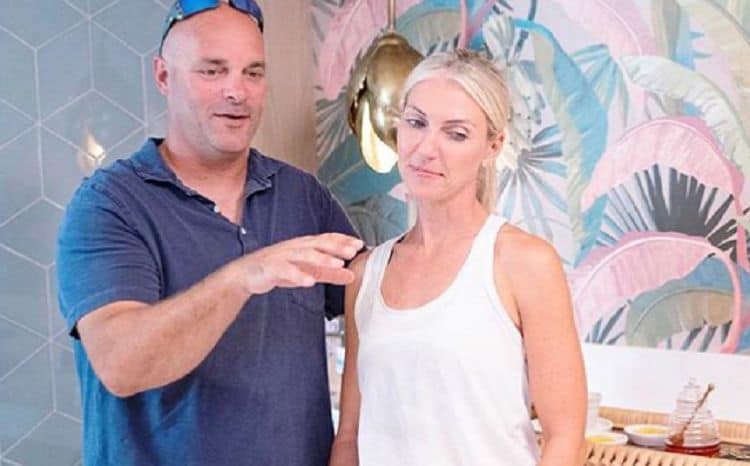 Lots of people can walk into a room and see the potential is has to look better, but Sarah Baeumler also has the skills to actually achieve that look. The talented interior designer has made a name for herself and is best-known for the work she's done on HGTV alongside her husband, Bryan. The couple has even been given their own show. Her bubbly personality and deep knowledge have created the perfect recipe for success on reality TV. If you've ever seen her work, you know that Sarah us truly a force to be reckoned with when it comes to design. It's always fun to see what Sarah will decide to do with a space. Continue reading to learn 10 things you didn't know about Sarah Baeumler.
1. She Met Her Husband In High School
After high school, lots of people lose touch with their former school mates. But that isn't how things went for Sarah and Bryan. When describing how their relationship started, Sarah said, "Bryan and I met in high school long before reality television was even a concept! We didn't date back then, but we kept in touch over the next 10 years as we both completed high school, university and post-grad programs. In 2001, we were both copied on an email from a mutual friend, which was the catalyst for us to begin talking again, and we decided to reunite over coffee after work."
2. She Loves Doing Yoga
Sarah may not be a health and fitness influencer, but she still likes to stay healthy and fit. She likes exercising and particularly enjoys doing yoga. Not only does yoga have lots of physical health benefits, but it can be a great way to release tension in the mind.
3. She Believes It's Possible To Have it All
Lots of women are discouraged from focusing a lot of energy on their career after they start a family. But although being a wife, mother, and career woman is a lot to balance, Sarah manages to do it. She believes that having it "all" is possible, but people should be realistic about their expectations and what they can manage. Sarah says she has a good understanding of what's important to her and she's able to prioritize accordingly.
4. She Enjoys Water Sports
Sarah isn't a competitive athlete, but she still enjoys sports as hobbies. In fact, a love for water sports is one of the things that she and her husband have in common. When they go on vacation, some of their favorite things to do together include water skiing, wake boarding, and tubing.
5. Her First Job Was A Camp Counselor
Like most people, Sarah looks back on her very first job with fond memories. After all, as a teenager, there's nothing more exciting then the feeling of finally earning your own money. Sarah's first job was working as a counselor at a local day camp called Camp Totoredac.
6. She Makes A Mean Martini
Another one of Sarah's early jobs was working as a bartender. During her time mixing drinks, she developed an extra special appreciation for martinis. Even though her official bartending days are over, she still prides herself on her martini skills and love experimenting with different flavors.
7. Her Children Drive Her To Work Harder
Sarah has had a lot of different jobs over the years, but being a mother has been her most meaningful one. She is the proud mother of four children, and she credits her kids with giving her the motivation to help push herself to accomplish even more than she could have imagined.
8. She's A Blogger
Interior design may be her claim to fame, but Sarah is also a content creator. She runs a blog on her website where she regularly posts about various topics including family, design, and other lifestyle related content. If you're looking for some good inspo, her blog is definitely the place to be.
9. She's Into Fashion
Fashion and interior design are two totally different worlds, but they overlap in many ways. With that said, Sarah's eye for design doesn't just extend to spaces, she's also got an eye for fashion. She uses her clothes as a means of self expression and she loves putting together outfits for different occasions.
10. She Cherishes Her Photo Albums
Family is one of the most important things to Sarah, and she loves capturing all of the special moments she spends with her loved ones. Sarah likes to create photo albums of all the pictures she's accumulated over the years and says those albums are one of the things she can't imagine living without.