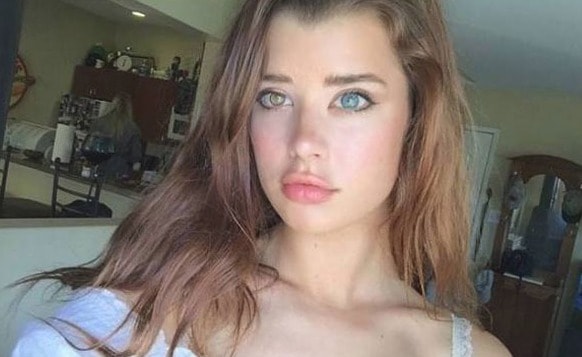 Sarah McDaniel is an actress and model who was born in Roseville, California, on July 30, 1995. She also claims that she is an investigative journalist. While she is well established as a model and was formerly represented by L.A. Models, she is relatively new to the film industry but is beginning to rise in prominence. Here are five things that you probably do not know about Sarah McDaniel
1. She Has Odd Eyes
Sarah McDonald has odd eyes; one is blue and one is brown. She claims that this is because she suffers from a condition called heterochromia iridium, which affects the colors of people's eyes. She has said in interviews that this is something she was bullied about as a child. However, her father has produced photographs of her with two brown eyes as a child. This has led to rumors that she has either had a colored implant fitted into her eye or that she wears one colored contact lens. Sarah McDaniel has made no comment about these claims.
2. She Has Appeared in Playboy
As a model, McDaniel has appeared in Playboy, although this was not a naked photograph as you might expect from this well-known publication. In March 2016, they published their very first non-nude edition and Sarah McDaniel was chosen as the cover model. This was the first major publication in which she has appeared.
3. She Has Been in Music Videos
Sarah McDaniel is probably most famous for her appearances in three popular music videos. The first music video in which she appeared was for 'Summer Breaking' by Mark Ronson and then appeared in the music video for his single 'Daffodils'. Both these songs featured Kevin Parker. Finally, she was in the music video for the G-Eazy single, 'Some Kind of Love'. This track featured Mark E. Bassy.
4. She Was in Super High
McDaniel's first television acting role was in the series 'Super High'. She played the role of Faith for nine episodes of this series in 2017 and the role of Grace for one episode. This action comedy series was created by Edouard Pluvieux and also starred Kev Adams and DeStorm Power. This series was not well received by either the critics or the public.
5. She Has Three Films Set for Release in 2018
Sarah McDaniel made her film debut playing Jesse in the 2017 film 'Deported'. She must have been a hit as she has now had three further film roles in movies that are all set for release in 2018. She is playing Python in 'Perfect', Isabel in 'The Row', and an actress in 'The Afterparty :)'. 'Perfect' is a thriller that is directed by Eddie Alcazar, who also co-wrote the film with Ted Kupper. 'The Row' is also a thriller ad this was written by Sarah Scougal and Matty Beckerman. It stars Colin Egglesfield, Dylan Sprayberry, and Lexi Atkins. 'The Afterparty :)' is a horror movie that is directed by Tony Villalobos, who also co-wrote the film with Simona Shaye. McDaniel is in the lead role and the film also stars Vitaly Zdorovetskiy and Tonio Skits.