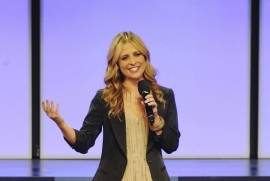 The last – and only – time Sarah Michelle Gellar visited San Diego Comic-Con was when she was promoting her movie The Grudge. This summer will mark Gellar's second visit to the comic/TV/movie extravaganza known as SDCC.
Gellar's new show, Ringer, has been picked up by The CW (which is also bringing shows like Nikita, Supernatural and The Vampire Diaries to Comic Con). The network has announced that Gellar will be headlining the Ringer panel, along with stars Nestor Carbonell (Lost, The Dark Knight), Ioan Gruffudd (Fantastic Four) and Kristoffer Polaha (Life Unexpected). The actors will also be joined by producers from the show.
The Ringer panel will take place on Thursday, July 21 at 1:45-2:45 p.m. in Ballroom 20. Audience members will receive swag, including custom 'Ringer'stools for everyone attending. 100 fans will receive Comic-Con posters signed by the cast and there will be a draw for a chance to win a three-night stay at a luxurious suite at a high-end hotel adjacent to the convention center during Comic-Con 2011.
Buffy fans will no doubt be lining up to see Gellar. Ringer isn't anything like Buffy, but it's a great show and will premiere on Tuesday, September 13 (for a list of other CW premiere dates, click here).
clarissa @ tvovermind.com
twitter.com/clarissa373
twitter.com/tvovermind