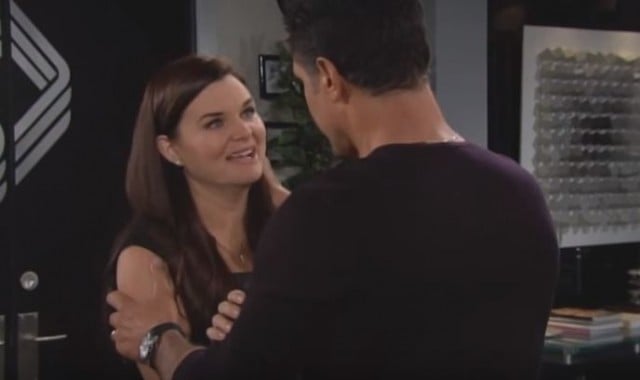 Tuesday is a day of confrontation and failed efforts on the Bold and the Beautiful. Sasha is still at it trying to find a way to live Nicole's life. We aren't even sure anymore that she is just a little jealous as we are that she just wants to be Nicole. She wants their father to acknowledge her, she wants Nicole's boyfriend to be her own and she wants to ruin her. We think that it might be because she is so jealous about everything that Nicole has that Sasha feels Julius owes to her.
With that in mind, Sasha makes it an effort to go see Julius so she can figure out what it is that they are doing. She has to know why he treats her the way that he does, but she is not satisfied when he gives her an answer. While Zende and Nicole are locked in an office making out after he tells her that he's okay with her apology for what she did to Sasha, Sasha is off on her own confronting her secret father. He wants to know why she is still here and she tells him to make things right with Nicole. He tells her that she doesn't belong and maintains his opinion that she needs to go.
He tells her that her issues with Nicole need to stop and that she's not going to be a model, though she says that she will be a model. He tells her that he will not lose her wife and tells her to keep her mouth shut about being her father and to leave his family alone; including his daughter. He warns her to leave Zende alone, and she says that she will do no such thing and implies that Nicole will never be good enough for Zende. That's when he arrives to photograph her and she decides that she will flirt with him to the point of desperation. It is so bad that he reminds her he is with Nicole and she tells him that she doesn't owe Nicole.
The moment of truth has arrived for Brooke, who goes with Eric to tell Maya and Rick that she is no longer going to work there. She provides them with a very generic "It's not working out for me," excuse and tries to leave. When Rick gets her alone, he asks her if there is an issue between her and his other aunt. With that, Eric gives him a look and tells him to leave it be and let Brooke make her own decisions. She admits, but only to Eric, that she has never been able to put her love of Bill aside and that she has always been in love with him. Even if Katie had not heard her, things likely would not have worked out with her there and in his presence all the time.
Bill is tired of everything that is going on between Brooke and Katie. We know that he wants to be able to see Brooke as often as he'd like, but he's pretending to his wife that he wants her to be happy with her sister. He tries hard to tell her that there is nothing going on and that she should give her sister another chance, but Katie is not having it. She's not giving her sister another chance after everything her sister has done to her over the course of their lives. Bill wants badly for them to make up so things will clear up between everyone and he can have Brooke in his life again, but Katie won't budge as far as her feelings are concerned. He's not winning this battle with his wife; he will have to find another way to see Brooke.
Steffy and Wyatt seem to have made big strides in their own relationship, too. She admitted to her brother on Monday that she is moving on from Liam after he left her with no explanation and for no apparent reason, and she is not having any of that. He wasn't thrilled with it, but even he seems to be a little bit more accepting of it now that Wyatt has said he will never treat Steffy the same way that Liam did.
Photo Credit — YouTube