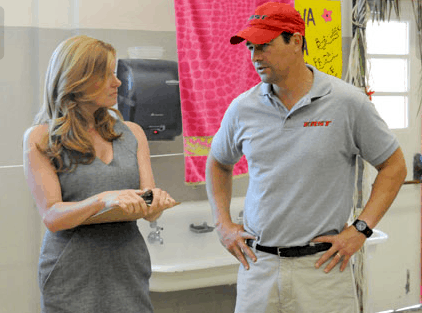 The Satellite Awards were presented on Sunday and if you didn't think the awards season was in full swing before, you're bound to believe it now.
Mixing in some of the patented Golden Globes wackiness with the holding pattern of the Emmys, the Satellite Awards had some of the more intriguing results in recent award show memory. Breaking Bad rebounded from its Globes snub for best drama and took down a gauntlet of worthy opponents, Connie Britton (!!) proved that there's nothing that can keep Tami Taylor down in claiming her first major award for Friday Night Lights, and Bryan Cranston's winning streak for playing Walter White continues to impress.
And that's just on the drama side of things.
Showtime's The Big C has made a surprising splash on the awards scene so far despite middling reviews, as both the show and leading lady Laura Linney captured their respective awards. Linney's category in particular is worth nothing in that every Showtime sitcom lead was nominated, making for a murderer's row of dysfunctional divas. Alec Baldwin was awarded yet again for his role on 30 Rock, while two TV movie actors walked away with the supporting trophies.
If there's one pet peeve I have about the Globes and the Satellites, it's that two vastly different categories of media are lumped together into one mega-category. Comparing David Strathairn's performance in Emmy favorite Temple Grandin to, say, Bruce Campbell in Burn Notice or Chris Colfer in Glee is too apples-to-oranges for my liking. Having Ty Burrell's goofy but lovable Phil Dunphy in the same category as Martin Short's scheming lawyer Leonard Winstone honestly doesn't make a lot of sense. I personally don't see why there can't be separate supporting awards for television and miniseries/TV movie, but what do I know? I just write about these things.
In looking at the nominee/winner list below (there is a movie division of the awards as well as a couple more TV movie/miniseries awards that aren't listed here), are there any you would have changed? Who got robbed? Do you think this will have any bearing on the Golden Globes in January?
Best Drama Series
Boardwalk Empire
Breaking Bad
Dexter
Friday Night Lights
The Good Wife
Mad Men
The Tudors
Best Actress in a Drama Series
Connie Britton, Friday Night Lights
January Jones, Mad Men
Julianna Margulies, The Good Wife
Elizabeth Moss, Mad Men
Anna Paquin, True Blood
Katey Sagal, Sons of Anarchy
Best Actor in a Drama Series
Kyle Chandler, Friday Night Lights
Josh Charles, The Good Wife
Bryan Cranston, Breaking Bad
Michael C. Hall, Dexter
Jon Hamm, Mad Men
Stephen Moyer, True Blood
Best Comedy or Musical Series
30 Rock
The Big C
Glee
Modern Family
Nurse Jackie
Raising Hope
United States of Tara
Best Actor in a Comedy or Musical Series
Alec Baldwin, 30 Rock
Steve Carell, The Office
Thomas Jane, Hung
Danny McBride, Eastbound and Down
Matthew Morrison, Glee
Jim Parsons, The Big Bang Theory
Best Actress in a Comedy or Musical Series
Jane Adams, Hung
Toni Collette, United States of Tara
Edie Falco, Nurse Jackie
Tina Fey, 30 Rock
Laura Linney, The Big C
Lea Michele, Glee
Mary-Louise Parker, Weeds
Best Supporting Actor in a Series, Miniseries, or TV Movie
Ty Burrell, Modern Family
Bruce Campbell, Burn Notice
Chris Colfer, Glee
Alan Cumming, The Good Wife
Neil Patrick Harris, How I Met Your Mother
Aaron Paul, Breaking Bad
Martin Short, Damages
David Strathairn, Temple Grandin
Best Supporting Actress in a Series, Miniseries, or TV Movie
Julie Bowen, Modern Family
Rose Byrne, Damages
Sharon Gless, Burn Notice
Jane Lynch, Glee
Catherine O'Hara, Temple Grandin
Archie Panjabi, The Good Wife
Brenda Vaccaro, You Don't Know Jack