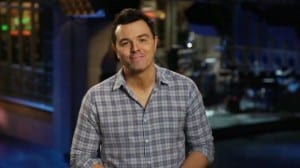 Tonight Saturday Night Live returns to our small screens to kick off its 38th season and unlike premieres of the past which chose to use an SNL veteran to mark the occasion, tonight's host is a Saturday Night Live newbie.
Funny man Seth MacFarlane will take the stage tonight hosting for his first time with musical guest Frank Ocean. Typically known by audiences for his deep sounding and sarcastic dialogue in characters such as Stewie on The Family Guy and that inappropriate teddy bear in last summer's hit movie 'Ted,' it will be a change of pace for viewers  to see him live and in person.
As fans of Saturday Night Live well know, hosting SNL can be a challenge even for the most talented of actors. Studio 8 has seen its fair share of huge first time host successes such as last season's Jason Segal and perhaps, an even greater deal of serious tanks (hello Channing Tatum), so the question is, which of these categories will MacFarlane fall into after tonight's performance? With so much experience in both comedy writing and comedic delivery, Seth should be able to knock out a pretty solid show tonight as long as performing live doesn't throw him off.
This season Saturday Night Live has also scheduled returning host Joseph Gordon-Levitt and first timer Daniel Craig to host upcoming shows in late September and early October.
Saturday Night Live airs at 11:30/10:30c on NBC.