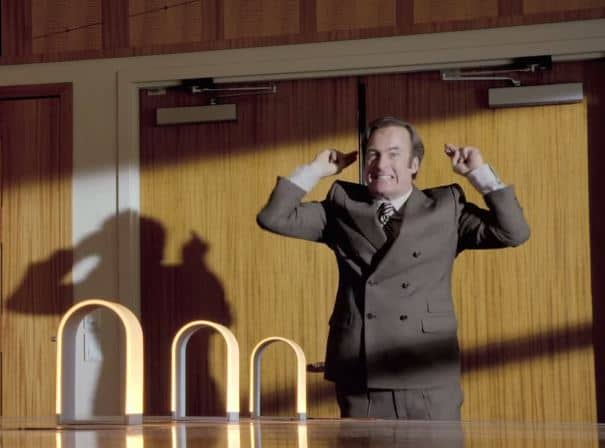 So it looks like things weren't always great for Saul, even before he met Walter White. In a new trailer for the AMC's Breaking Bad spin-off Better Call Saul, we finally get some new footage from the series, and while it doesn't tell us much, it does tell us one thing: Saul is having one very bad day.
It's unclear exactly what's happening in the thirty-second trailer, which opens with Saul dramatically yelling at two people, a man and a woman (possibly co-workers or opposing lawyers?), that they must atone, and from there, it doesn't get much better for our favorite crooked lawyer. He's tied up and thrown to the ground (duct tape covering his mouth), stuck driving an old, beat-up car (and possibly getting threatened outside of it by two unseen individuals), and then (definitely due to the frustration of the day) kicks a poor, defenseless trash can.
In addition to showing us Saul's rough day, the new Better Call Saul teaser also gives our first look at Michael McKean as Chuck McGill, father of Saul (who will be known as Jimmy McGill when we meet him at the beginning of Better Call Saul). Their father-son relationship will hopefully provide us with some more insight into Saul's backstory, which we didn't get much of on Breaking Bad, as the character was mainly used as comic relief and to help bail Walt and Jesse out of the numerous perilous situations they found themselves in.
Better Call Saul's two-night premiere kicks off on Sunday, Feb. 8, at 10 p.m. Watch the new trailer below.
Photo via YouTube