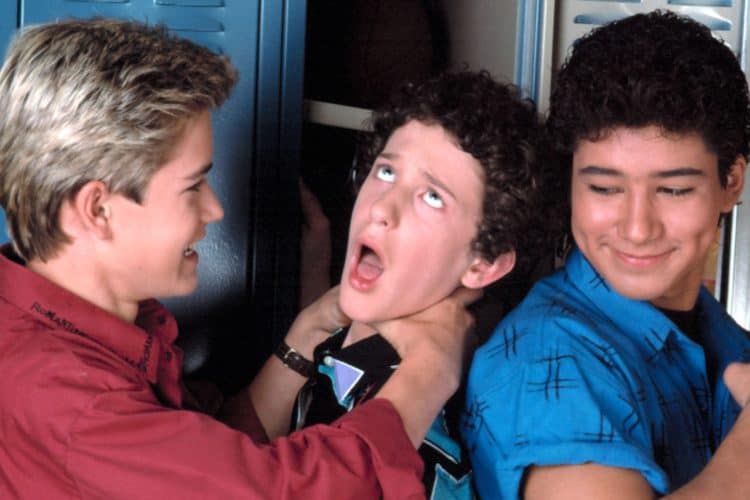 Dustin Diamond would have for certain been a part of the newly rebooted Saved by the Bell had he not passed away back in February, but it does sound as though the cast and crew will be paying tribute to their departed former costar when season 2 rolls around. This is something that might be expected since paying homage to one of the original stars that were there throughout the original show would only be right. What might cause some folks to raise an eyebrow could be that Diamond decided to state, perhaps jokingly, that people might not be able to identify the show as the real Saved by the Bell without Screech. The argument against this obviously is that while Screech was in fact a part of the show he was also the lovable nerd that a lot of people tend to ignore unless he's on-screen at that exact moment and is doing or saying something that needs to be laughed at or is a call for compassion. The sad part of being the comedy relief in any show is that unless a person can really convince the fans that their character is vital to the show in more than one way, they're always going to be looked at as 'that person' from their favorite show. To be fair, most of the others fit into their niche as well and didn't really make a lot of headway when it came to their personal development, but when you're the person that everyone makes fun of, well, it's bound to take a toll on the ego. Strangely enough, that didn't appear to bother Diamond as he grew older since he became a bit of an egotist.
The fact that he wasn't brought back initially for the first season has been a point of discussion, as has the fact that Lark Voorhies wasn't brought back either to start with. But the reason behind Diamond's exclusion, if the stories have any truth to them any longer, is that he was in the practice of burning bridges and being kind of a troublemaker over the years. The tell-all book that he claimed a ghostwriter bungled by giving a wrong account of what went on behind the scenes of Saved by the Bell was a big mistake on his part, but his general attitude didn't appear to help matters any since many people wanted nothing to do with him. In essence, Diamond became a celebrity that had outlived his celebrity status in a very big way and didn't appear to realize that people really didn't want him around. It was that, or he didn't really care and was fine with letting everyone know about it. In any case, Diamond had become someone that people didn't want to associate with after a while and despite still having contacts in the business it did feel as though putting him into the reboot might have been a mistake right away. But the decision was finally made that he would be brought on for the second season, only to suddenly realize that he wasn't going to be making it. The sickness that took him was quick and unexpected and gained Diamond quite a bit of sympathy that he hadn't experienced in a while. His passing was unfortunate, but as it stands it does sound as though the cast and crew of the show will be making an effort to ensure that Screech will be immortalized on the show.
There's still a bit of debate about what happened between Diamond and his former castmates over the years since it does sound as though they might have stopped speaking to one another after a while. No matter how matters might have been handled, the fact is that Diamond's presence on the show might have been appreciated by older fans and could have even been anticipated by younger fans of the show simply because it would have been great to have the core cast back in action. Whether he would have stuck around as much is hard to say, but the fact is that Diamond is going to be given a tribute by his former costars that will be handled with a great deal of care since the desire is to make certain that people remember him as part of the cast and hopefully not dwell upon the past indiscretions that might have happened. It's still kind of easy to wonder how long this reboot will last but it's also important to realize that paying respect to the people that helped to make it possible in the first place by sticking around for the original show should be given the type of respect that comes from having been a part of something that so many people found a reason to love. However the cast chooses to remember Screech it's certain to be something special.