Tonight was So You Think You Can Dance's first live results show for Season 6.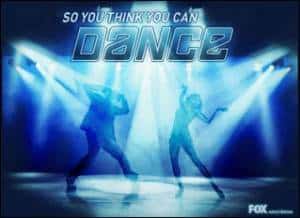 We got to see the top 16 perform a group dance and then it was down to the nitty-gritty of who had the most votes and who had the least. From the very beginning, the judges were in a cantankerous mood. They made no effort at all to hide the fact that they believed that America had gotten it wrong. America had not voted for the best dancers, but for the dancers they liked the best. Adam Shankman thankfully reminded everyone that this competition is about find America's favorite dancer, not America's best dancer.
In the end, Pauline and Peter were sent home. Neither choice surprises me, but I do wish I could say more on the subject. I wish I could compare their dance to the others performed, but it seems that DirecTV hates me. Anytime there's even the slightest hint of rain, or cloudy weather, or the faintest of breezes, my reception goes to crap. The audio cuts in and out, the video skips around or pauses and generally makes watching anything unbearable or impossible. So because we were having a bit of rain Wednesday night, my DVR could only manage to record about half the dances.
Now! For your reading pleasure, a recreation of Mollee and Nathan's salsa, as we experienced it:
Cat's standing in the audience, looking at the camera. "Everyone, give it up for Mollee and Nathan!" The camera swoops over her shoulder. The music, "Quimbara" by Celia Cruz and Johnny Pacheco, begins. Mollee and Nathan fall out of their dynamic poses and begin . . . the image freezes, stutters, cuts to black, and then returns with Mollee and Nathan out of breath and the crowd cheering for what the wife and I could only assume was the shortest and/or fastest salsa of all time. The wife and I look at each, both with clenched teeth as we flashback through all the different TV moments we've missed out on, culminating in the missing final fifteen minutes of Battlestar Galactica. "Call EPB. I want fiber optics," is all she says. "I'm tired of missing our shows."
Anyway! Sorry to Pauline and Peter, consider other cable providers, and good luck to the remaining 14! I hope Mollee and Nathan prove the judges wrong next week because I want them stick around for as long as possible!