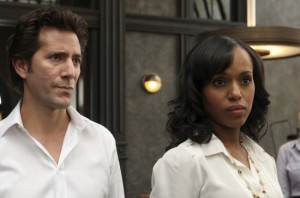 It looks like there'll be one less gladiator in a suit come this September.
According to The Hollywood Reporter, Scandal actor Henry Ian Cusick won't be returning for the show's second season. Said to be an amicable split between Cusick and creator Shonda Rhimes, the departure is a blow to Pope & Associates, as Cusick's ex-attorney character Stephen Finch had played a key role in multiple cases during the first season.
There's no word yet on if another character will be brought on board, though if the team replaces Finch, it'll be someone already well-versed in all things Olivia Pope. The series began with the introduction of "Quinn Perkins" and her entry into the world of political fixing, by which we were exposed to the Pope team and the lengths they'll go to for their clients, so another character in that vein doesn't seem likely.
Cusick is the latest in a string of Lost-related casting and pre-season upheaval at ABC. Yesterday, it was announced that Jorge Garcia would be guest starring on Showtime's Californication, where Maggie Grace had already booked a nine-episode arc and potential spin-off for her newly introduced character. Meanwhile, Private Practice and Body of Proof have both made major changes to their core casts in preparation for their next seasons. Tim Daly won't be returning to Private Practice for a sixth season, while John Carroll Lynch, Sonja Sohn, and Nicholas Bishop won't be returning to Body of Proof, which eked out a third season renewal in May.
Scandal returns for its second season this fall following Grey's Anatomy. The first season will be available on DVD and Blu-ray on June 12th.
What do you think about the casting change on Scandal? Do you think they should bring someone else in to "replace" Stephen? Are you still excited for the upcoming season?
Update: TV Guide is reporting that Joshua Malina (aka attorney David Rosen, one of Olivia's favorite sparring partners) has been promoted to series regular for season 2.