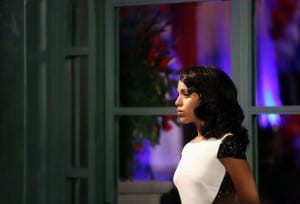 Aside from her colleagues at Pope & Associates, there's no one that Olivia Pope trusts. Although she respects Cyrus and the two have a fairly friendly (mutually beneficial) relationship, she knows how much of a bulldog he can be and that keeps her from fully buying into the idea of being close with him. With her relationship with Fitz dead in the water at the moment due to him feeling hurt over the election rigging revelation, Olivia's life is lacking in confidantes, people she can be fully herself with without feeling judged. Will this lead the Scandal fixer into the arms of Jake?
On the next episode of Scandal (air date TBA), Olivia has her next big case, one that will force her to examine the strength of her personal relationships. Molly's assertion that the CIA director was the man who killed Wendy for getting ahold of documents she shouldn't has forced Olivia to turn her attention, for better or worse, back toward the White House. Having an ID on a possible perpetrator may mean that they know where to go with their investigation, but Pope & Associates will have to tread lightly if they want to confirm Molly's suspicions without drawing notice from political higher-ups. With the Kashfar hostage situation not getting any better, there'll be a lot more attention and scrutiny at 1600 Pennsylvania Avenue and that could mean that digging around for information will be harder than usual.
Elsewhere on Scandal, Olivia deals with a married couple where the wife (guest star Lisa Edelstein) has been accused of having an affair with a public figure.
Scandal airs Thursdays at 10:00 on ABC.
Is there anyone in Olivia's life that she can trust? How will Pope & Associates go about exposing the CIA director? Will Olivia and Jake get hot and heavy now that she agreed to the second date?
http://www.youtube.com/watch?v=DfK1Zptb7Us