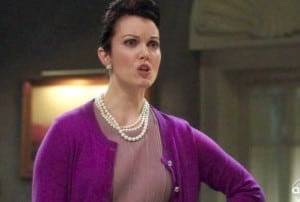 Mellie has always been the linchpin holding the Grant presidency together. Whenever she's been called upon, she's come through for Fitz, helping to solidify his image as an upstanding family man through (fabricated) tales of their marital happiness and giving him the bump in the polls needed to withstand controversy. However, her one demand has been for him to stay away from Olivia Pope, something that Fitz can't seem to do. He continues to call the political fixer and, on the most recent episode of Scandal, visited her at the hospital after she fell at Jake's. Should Mellie get wind that he risked being seen in public with her by running to her side at an unsecured hospital room, will she decide that she's through with holding things together for her husband?
Listed below are the dates, titles, and descriptions of the next two episodes of Scandal.
Thursday, April 25th – "Seventy-Two"
Secrets from Huck's life before Pope and Associates are revealed, Olivia and Fitz engage in an emotionally charged conversation, unaware of the fact that someone could be watching, and Olivia's team comes together to help one of their own. Meanwhile, Cyrus is becoming increasingly skeptical of Jake, and Mellie makes a decision that could bring down the White House.
Thursday, May 2nd – "A Woman Scorned"
The team continue their investigation into the mole and make a shocking discovery in the process. Meanwhile Fitz orders Jake to continue to protect Olivia, who is still very much in danger, and back at the White House Mellie's ultimatum forces Cyrus into the role of "fixer".
Scandal airs Thursdays at 10:00 on ABC.
Is Jake the one watching Olivia and Fitz at the hospital? What type of ultimatum could Mellie bring forth that puts Cyrus on the defensive? How long will it be before the truth about Jake is revealed to Fitz?