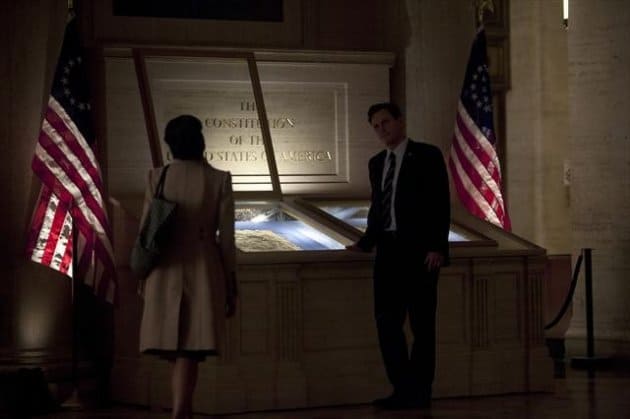 The hunt for the gunman that pulled the trigger on the President of the United States is on, although the vague description doesn't exactly point in one particular place. A man of average height with an average build, buzz cut, and red hoodie could be used to describe thousands upon thousands of D.C. residents, but it turns out that his identity hits close to home for the team from Pope and Associates, as it was Huck that nearly took out the Commander-in-Chief in a series of gunshots. It was Huck that hit a Secret Service agent and it was Huck that killed the 30-something press secretary, sending Scandal to its winter finale with plenty of questions built on the back of unexpected betrayal.
Next week on Scandal, the show begins unraveling the spool of yarn that is Huck's mental state and motivation in attempting to gun down the President. It comes as a surprise to see the former spy behind the botched assassination, as he had been finding some semblance of a normal life in recent weeks. He had began dating a woman who he met at the AA meetings he had been attending and he had been able to resist the urge to kill again during this season of Scandal. Of course, he's slipped up, but the existence that he had been craving from the time his tour of duty ended, the ability to be like all the rest and not worry about being strange or having the urge, looked to be possible for the first time. However, now that he's the most wanted man in America, I don't think normalcy is an attainable goal anymore.
Elsewhere on Scandal, Olivia begins helping acting President Sally Langston in her beginning days in office, while Cyrus finds out what James has uncovered thanks to his investigation.
The winter finale of Scandal airs Thursday at 10:00 on ABC.
Why do you think Huck shot Fitz? Once the FBI finds him, what will they do to him? How long will it take the President to make a full recovery and return to office?
http://www.youtube.com/watch?v=5-XzQjyrc1c