[FLOWPLAYER=http://www.tvovermind.com/wp-content/uploads/2012/10/SCA203_fv3.h264HD.png|http://www.tvovermind.com/wp-content/uploads/2012/10/SCA203_fv3.h264HD.flv,480,320]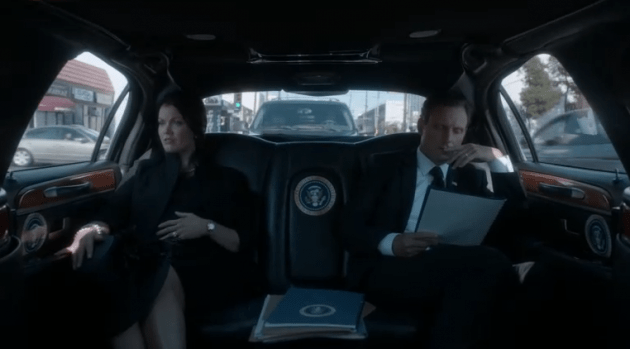 On the most recent episode of Scandal, Mellie and Fitz seemed to have patched things up. Their resentment for one another had finally been lifted thanks to an emotional conversation punctuated by talk of forgiveness and an embrace between the two. During the brief run of Scandal, Mellie and Fitz have been extremely cold whenever they were alone together, but they may have turned a corner thanks to the pastor's funeral they attended.
Though there's no guarantees that their current peace treaty will last, the two are on good terms in a sneak peek from the next episode of Scandal. With the President (begrudgingly) preparing for a duck hunting trip and the First Lady looking over baby clothes, they're downright friendly; nobody argues, there are no accusations thrown back and forth, and Mellie even cracks a (genuine) smile at her husband. In another sneak peek, Cyrus makes mention of defusing the "Fitz bomb" ready to explode at any moment, but judging from his time with Mellie, he might not be that tightly wound just yet.
Meanwhile on Scandal, Olivia receives a surprise visitor in the backseat of her car late one night in the parking garage, kicking him out before speeding off. However, before she can get out of earshot, the man yells out that the government knows about the late night phone calls to the White House, which have been how she's stayed in contact with Fitz. Olivia is nothing if not careful and deliberate, but now that her big secret is inches from being leaked out into the public sphere, how will she react?
Scandal airs Thursday at 10:00 on ABC. You can check out a recap of the most recent episode here, as well as spoilers for the next two episodes here and the TVOvermind Scandal discussion forum here.
Do you think that Olivia is really being followed by the government? Have Fitz and Mellie buried the hatchet for good? What lengths will Cyrus go to to "defuse" the Fitz time bomb?
[FLOWPLAYER=http://www.tvovermind.com/wp-content/uploads/2012/10/SCA203_fv2.h264HD.png|http://www.tvovermind.com/wp-content/uploads/2012/10/SCA203_fv2.h264HD.flv,480,320]
[FLOWPLAYER=http://www.tvovermind.com/wp-content/uploads/2012/10/SCA203_fv1.h264HD.png|http://www.tvovermind.com/wp-content/uploads/2012/10/SCA203_fv1.h264HD.flv,480,320]