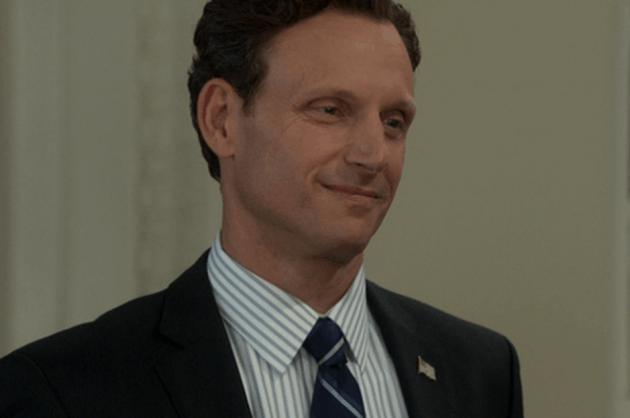 After two episodes away at the G8, it's time for the President to come back into the world of Scandal, just in time for a lavish 50th birthday party. Rather than a relaxed good time with a cake, a few presents, and a handful of his closest confidantes, all happy to have him back after the time away, the party looks to be a powder keg that will obliterate the Oval Office upon the first spark.
Olivia will be making an appearance at the party, which will bring about major tension in two aspects. There's the fact that the President "let her go" in their last meeting (and the whole "hanging out with your former mistress around your wife" thing doesn't tend to be a pleasurable experience), as well as the fact that Olivia will be joined by several members of the cabal club in one enclosed space for a period of time. Hollis has already made threats against Cyrus (and James) for the recent article and with David Rosen picking up the investigation into the connection between Doyle Energy and the Cytron bombing again, there's an even greater chance that it'll all be put together.
And once it all comes together, it'll all fall apart instantaneously.
Elsewhere on Scandal, Harrison takes control of the team and leads them in "fixing" a billionaire on the brink of insanity, while James uncovers a piece of information about Hollis and Doyle Energy that could bring down the oil man once and for all. Will David Rosen get a chance to talk to him and continue rebuilding his case against Hollis? Or will Cyrus get wind of the investigation and have to implement more drastic measures in order to protect himself?
Scandal airs Thursdays at 10:00 on ABC.
Will Harrison be able to lead the rest of Pope & Associates in aiding their next client without the presence of Olivia? How will the President's 50th birthday party go, which will have the great Olivia Pope in attendance? If Cyrus finds out that James is still looking into (and writing about) Hollis, what steps will he take to protect himself and the other four members of the club?
http://www.youtube.com/watch?v=yGMhGTbnbA0