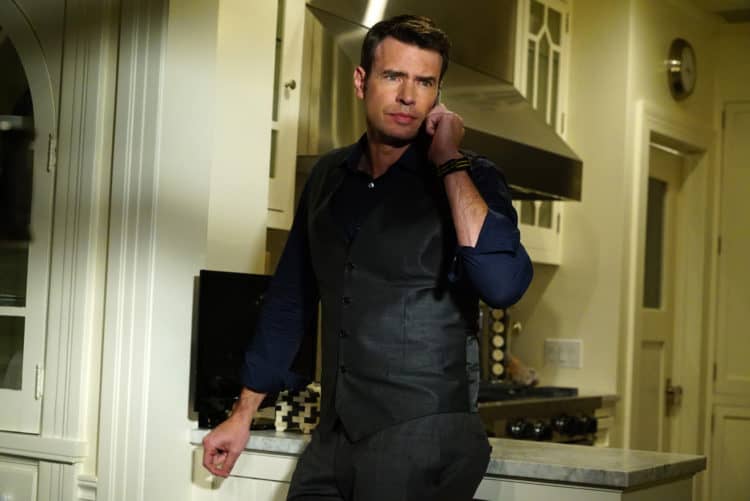 Scott Foley is the kind of actor you've probably seen a lot over the years. His resume includes just over 40 credits and he has been a part of some very popular productions. If you're over a certain age, you may recognize him best for his role in the TV series Felicity. The younger crowd will likely remember him best for playing Jake in Scandal. No matter what you remember him from, though, you'll probably agree that he is insanely talented. He brings something special to every role he plays and his fans will be pleased to know they have something to look forward to. Scott will be in an upcoming TV show called The Big Leap. Here are 10 things you didn't know about Scott Foley.
1. He Lived In Different Countries As a Child
Scott was born in Kansas City (Kansas, not Missouri), but he didn't exactly have a simple midwestern upbringing. Due to Scott's father's job as an international banker, the family moved around quite a bit when Scott was younger. He spent time living in Japan and Australia during his childhood. He currently lives in Connecticut.
2. He's Always Wanted To Act
Trying to figure out what you want to do when you "grow up" is something that takes some people an entire lifetime. Scott considers himself very lucky that he never really had to go through that. He always knew that he wanted to act and he didn't hesitate to jump into the audition process. In fact, he didn't even bother to take the SAT or apply to any colleges because he knew he wanted to act.
3. He Isn't Afraid To Try New Things
There are plenty of people who will spend their entire lives inside their comfort zone. That may work for some, but that has never been Scott's idea of a good time. Instead, he enjoys trying new things and he isn't afraid to take risks from time to time. This quality has probably come in very handy throughout his career.
4. He's A Father
Scott has accomplished a lot of great things in his career, but nothing will ever mean more to him than being a dad. Scott and his wife, Marika Dominczyk, have been married since 2007 and they have three children together. He loves spending time with his family whenever he can.
5. His Brother Is An Actor
Scott wasn't the only person in the Foley family the acting bug decided to bite when it came around. Scott's younger brother, Sean, is also a professional actor. Most notably, he was in two episodes of Monk between 2004 and 2005. His most recent project was a short film in 2018 called It's Me, Sugar.
6. He Is A Director
Acting has been very good to Scott, but it's not the only area of the industry that he has shown interest in. Scott made his debut as a director in 2002 with an episode of Felicity. Since then, he has directed a handful of other things including three episodes of Scandal.
7. He Was Married To Jennifer Garner
If you're too young to remember the celebrity news of the early 2000s, you probably had no idea that Scott Foley and Jennifer Garner used to be a thing. The couple tied the knot in 2000 after meeting on the set of Felicity. They ended up divorcing three years later. The couple never had any children together.
8. He's Been On Broadway
Scott's TV roles are the first thing that comes to mind when most people think of his career, but he has also made his way into the theater world. He made his Broadway debut in 2003 in a play called The Violet Hour. At the moment, it seems like screen work is his top priority and it's unclear if he has any plans to return to the stage.
9. He Isn't Shy About his Political Opinions
The political climate in the United States has been very tense over the last few years. As a result, a lot of people have made it a point to make their stance very clear, and Scott is one of them. He has made several political posts on social media and has never hesitated to let it be known that he supports the election of president Joe Biden.
10. He Likes Doing DIY Projects
Scott may be a star, but that doesn't mean that he's too good to get his hands dirty. In fact, Scott is actually pretty good with his hands. He loves doing DIY projects around the house and he often shares photos and videos on social media to show what he's working on.