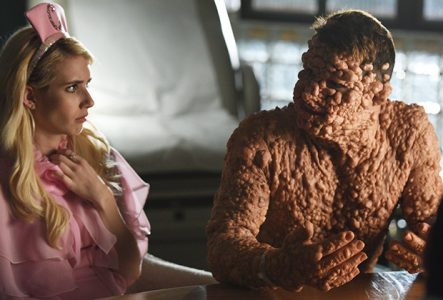 Now that Scream Queens has gotten its introductory premiere episode out of the way, the table is set for the show's sophomore season and things can begin to get crazy again. The show's premiere episode was pretty by the numbers last week, but did not fail to show that the show will be exactly the same with its over the top style of satire. With the addition of cast members like John Stamos, Taylor Lautner and Kirstie Alley, Scream Queens seems to have set itself up for a fun looking season, and "Warts and All" proved that to be true.
Last night's "case of the week," kicked us off with a young adult covered in grotesque tumors that look like warts. The episode quickly establishes that this poor guy's condition is curable, but only through treatment with a very expensive laser. While everyone writes this case off, a classic Beauty and the Beast scenario unfolds between the patient Tyler (and unrecognizable Colton Haynes) and Chanel #5. Per usual, Scream Queens takes a classic story idea and adds in the ridiculousness of the show's characters. The show adds in things like Chanel #5's PSA video that is absolutely phenomenal thanks to her inability to stay out of the spotlight, and while she means well, it's just such a standard thing for any of the Chanel's to do. It's somewhat of a heartwarming story, because viewers finally watch Chanel #5 care about something, and despite being the butt of the Chanel group, she was about to get the guy. Yet, even when she finally succeeds, Chanel and Chanel #3 have to ruin her kindness by purchasing the laser and looking like the heroes.
As for the Green Meanie, the killer goes after Zayday and Chamberlain, and later on Munsch herself. The two do some deep digging and discover that Munsch had all info about the mass murder at the hospital erased from the internet, for good reason. The mystery has been set up pretty well through the first two episodes, which is what really ropes Scream Queens together. Last season was pretty fun with multiple killers, so it will be interesting if they are going to stay a little more simplistic and have this be a single killer. The show has also done a nice job of bringing back Hester by putting her into a Hannibal Lecter type cell and claiming she knows who the killer is. Scream Queens really succeeds because of things like this, the ability to fearlessly reincorporate characters through fun means. It's great to have Hester back and I'm sure that soon enough she will get transferred to CURE because Munsch and everyone become that desperate.
On top of this, season one fan favorite, Chad Radwell, also made a return. The Dickie Dollar Scholar president wants to win Chanel back after discovering she's found someone new in Doctor Holt. The two have an incredible shower scene together that displays why viewers missed Chad and his antics. Scream Queens really knew what worked last season, and the creative team isn't trying to change a successful formula. The show was originally even supposed to be another anthology piece featuring a new setting with fresh characters each season, but upon seeing how well these specific actors played their characters, the proper decisions were made to dump any weak points and ensure the return of beloved supporting players.
Once again, Scream Queens continues to deliver more of the same in the most solid sense possible. "Warts and All," delivers a typical plot of the week story with a nice spin while also evolving the mystery. Another thing that is interesting, is last year's killer plot had plenty of motive, but the Green Meanie and hospital massacre are less directly connected to all of these characters. Ultimately, Scream Queens provides a great balance from week to week, giving viewers the humor and lightheartedness they want while also providing a compelling mystery to compliment everything else.
Other Thoughts:
Pumped that Colton Haynes jumped into this show for an episode and it's so goofy to see him covered in tumors like that.
 The Radwell v. Dr. Holt battle is going to be glorious. Can't wait to see how much this escalates throughout the season.
Did anyone else think Munsch was just in denial about having menopause? That's what immediately jumped into my mind, but cannibalism is just as good.
In next week's preview we hear Cassidy Cascade tell Chanel #3 that he's a zombie, or undead? I can't remember. I wonder if my theory on certain characters representing classic horror monsters is coming true?
Scream Queens Season 2 Episode 2 Review: "Warts and All"