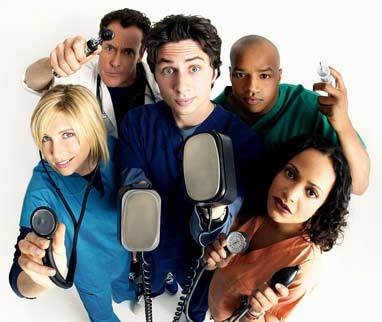 ABC is currently in talks to bring back Scrubs for a ninth season, despite the fact that cast members John C. McGinley, Donald Faison, and Neil Flynn have all landed pilots this spring. Zach Braff has shown some interest in returning, at least for part of the season, and Exec Producer Bill Lawrence would return as well, unless his new series Cougar Town happens to get picked up by ABC, which stars Courteney Cox. If that happens, it is unclear whether Lawrence would produce Scrubs and Cougar Town, or hand the reins to Scrubs off to someone else.
So who, exactly, would star in this ninth season? Well, that is somewhat unclear at this time. There are certainly a whole slew of new interns that were introduced this season, including Sonal Shah, Eliza Coupe, Betsy Beutler and Todd Bosley. In addition, even the actors mentioned above with pilots being produced could potentially return with recurring roles on the show. Another question that comes to mind is why ABC would want this show to return? After all, Scrubs hasn't done well on ABC this season, as far as ratings go, but it hasn't done horribly either. The main reason for this move from ABC is that Scrubs does very well with advertisers that are looking for upscale demographics. It is also one of only a few half-hour comedies that ABC has left in its line-up. The decision on whether it will return or not seems to hinge on if ABC can get the licensing fees for the show low enough to make it profitable for them.
Another nice surprise is news that Better Off Ted, a midseason rookie series, also on ABC, might also get a renewal. The show hasn't performed well so far, coming in under the networks average 18 – 49 demographic ratings, but there is a lot of buzz around the show currently, and it has received some critical acclaim, and often has the words "fresh" and "hilarious" mentioned in the same sentence with the show. Again, this show would help ABC add to its 30-minute sitcom arsenal, but the show is also produced by Fox studios, which gives it appeal to ABC, who is trying to diversify their schedule and not rely so heavily on shows produced within the Disney empire. So, Better Off Ted fans, keep your fingers crossed on this one. We should know for sure in a few more weeks if it gets the return or not.
Source: Variety