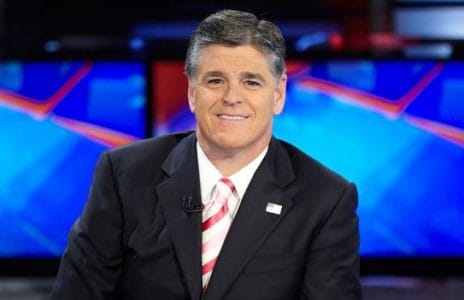 Sean Hannity is in the news more than he might hope, particularly when he tries hard to make a point and fails to do so. On that note, it is difficult to dislike him when he makes such an effort to take down the people he dislikes politically and cannot do it, yet he moves right along and doesn't think twice about the fact that he did not 'win' his argument. He just keeps on going and tries again later. That's pretty admirable, if you ask us. He's a man of many talents, but he's also a man who we don't know as much about as we might think. Cable news host, radio talk show host; who else is Sean Hannity?
He's a New Yorker
It's so common to meet New Yorkers who are not born and raised in the city. Many of the people who live in the big city are not from there, having moved from other cities and even other countries near and far. However, Sean Hannity was born, raised and grew up in the city. We know there are people like that out there, but we so rarely come across them.
He's the only boy in the family
If you've ever wondered why Sean Hannity is the way that he is, it might be because he's one of three kids. Not only is he one of three kids, he's the only boy. What that means is that he grew up with girls. Being the mother of three girls and one boy myself, I can tell you that boys have to be strong and when they finally find someone to listen to them, they rarely ever stop talking.
Sean Hannity did not graduate college
When Sean Hannity graduated from high school, he made the decision to head off to college. His college of choice was New York University. Unfortunately, he did not obtain a degree while there, and he ended up leaving his schooling behind to follow his dreams.
He's not always been good at radio
When he first began his radio career in 1989, he was in trouble a lot. He proclaimed that he was not good at it, didn't know what he was doing, and he made so many mistakes he lost count. I'm certain we all do the same thing in our lives when we try something for the first time, though.
He's an author
With three books to his name, Sean Hannity is certainly a best-selling author. He might not be a novelist who keeps us on our toes all summer, but somewhere there are millions of people looking to read his books and make sure they know where he stands, how he feels and what he's been up to in life.
He makes a lot of money every year
What does a famous radio host and television host make each year, anyway? Surely they cannot make that much money if you listen to your local morning talk show hosts discuss their paychecks. Fortunately for Sean Hannity, however, he is not your everyday household radio host. He makes an estimated $29 million per year in his job. That is pretty impressive.
He's a father
You might think that a father might not want to embarrass his kids by arguing with politicians on national television and the radio, but parents love to humiliate their kids. It is, after all, why we had them in the first place. Sean Hannity has two of his own, a boy and a girl. We are certain he loves to embarrass them when he has a chance to do so.
He's been married over 25 years
Okay, so his quarter century anniversary fell in 2013. He's been married to his wife, Jill Hannity, since 1993. They met, they fell in love, they got married and they had a couple of kids together. As far as anyone knows, they are quite happy together, too. They seem to want to make the most of their marriage, and it works for them.
He's an important talk show host
If you're going to be a talk show host on the radio, you might as well be a good one. Sean Hannity is a good one, and he's well aware of that fact. He's been awarded several major awards for his role as a television host and radio host, and he continues to earn more every year.
He taped his books while driving
We know he's an author, but do you know he wrote his own books? Well, he did not write a thing. He actually dictated his work to recorder in his car on his way to his shows every day, and that's how he wrote his books. Basically, the words are his and came from his mouth, but he didn't do any actual touching of the keys to make the words come to life.