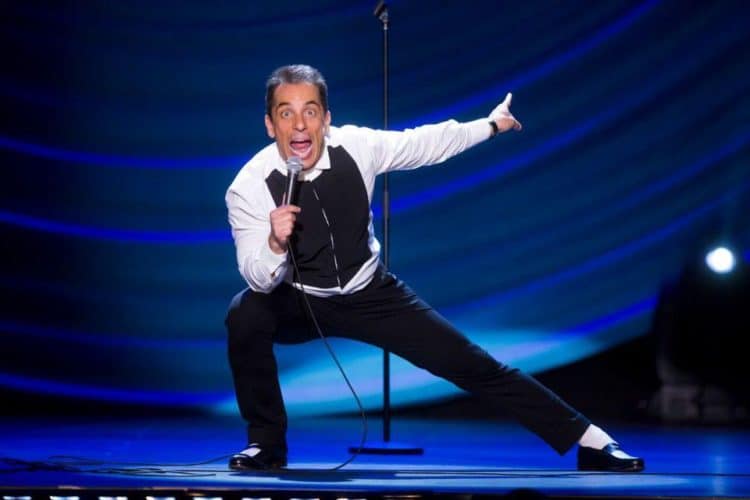 Fans are excited to hear the news that Sebastian Maniscalco is going to be back with comedian Ray Romano for a new project, and it seems like all anyone can talk about at the moment. Everyone is delighted by the news, and it's big news. The two have worked together in the past, and it was phenomenal. Right now, though, it leaves many fans wondering just who Sebastian Maniscalco is and what his life is like. He's having a moment, and everyone wants to know more about him.
1. He is from Illinois
Maniscalco is a man born and raised in the Midwest. He was born on July 8, 1973, in a Chicago suburb called Arlington Heights. He lived there almost his entire life, not even going too far to attend college. He went to the Northern Illinois University, which is not far from his home.
2. His Family is Italian
His name says it all, which is why his family being from Italy should come as no big surprise. His father came to America at the age of 15 with his family, and his mother's family came from almost the same area in Italy. His father was a hairstylist throughout his childhood, and his mother worked as a secretary.
3. He's a Frat Boy
We mentioned already he went to college, but did we mention he was a frat boy? Not just any frat boy, either; he was the president of his frat. He was part of the Sigma Pi frat chapter. He also graduated in 1995 with a degree in communications. We don't think he ever used his degree, though.
4. He Came to LA in the 90s
Immediately following his college graduation, he spent three years doing things that are unaccounted for in our timeline. From 1995 until 1998, we have no idea what he did. We know that he went to Los Angeles in 1998, though. He began working on his comedy game doing open mic nights at various bars, and he also did a few nights in bowling alleys.
5. He Was a Waiter for a Long Time
When he first came to LA, he needed to do something to make ends meet. He found an opportunity to apply for a job at the Four Seasons Hotel. He spent the next seven years of his life at the Four Seasons in Beverly Hills waiting tables and making ends meet.
6. He is Married
He married his lovely wife in 2013. Her name is Lana Gomez. Together, they have two kids. Their daughter, Serafina, was named after Maniscalco's grandmother. She was born in 2017. They did not waste any time having their second baby, either. Their son, Caruso, was born in 2019. They are just about 2 years apart.
7. He Was in a Famous Movie
"The Irishman," was a hit movie that had a lot of buzz. The Martin Scorcese film starred so many of the most famous men in Hollywood. Not only did Maniscalco have a role, but he had a role alongside Hollywood greats such as Robert De Niro, Al Pacino, Joe Pesci, Harvey Keitel, and even Anna Paquin.
8. He's Back on the Road
Fans are more than a little happy that one of their favorite comedians is back to touring following more than a year of handing out at home and not doing any live shows due to the heavy COVID restrictions in many states. He's back on the road, though, and he is starting again in June 2021.
9. He Hated Not Sharing
While on lockdown where he lives, he hated not being able to get out and share his comedy with his fans. However, we have a feeling that what he's going to share on his new tour is going to be brand-new stuff that comes from spending a year at home with his wife and two small kids. We imagine he's not had that much time to spend with his family before, and now he has some very new, very different, and very relatable material to share with his fans. We all spent a lot of quality time at home with our families those six weeks of lockdown, after all.
10. He's Very Private
He might be a comedian with a family, but he doesn't share too much of his personal life with anyone. He keeps things to himself. He doesn't like to put the spotlight on his family too much, and he also likes to keep things as close to the vest as he can. He's very into keeping this quiet and private, though he does make jokes about family life and things in his tours.