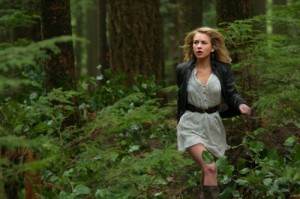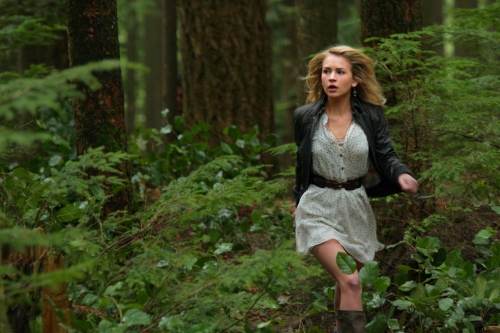 We got a peek at the new CW series, The Secret Circle, during the network's recent Upfront presentation (view photos and a trailer).
The new show, produced by Vampire Diaries showrunner, Kevin Williamson, is based on a series of books also written by the author of the Vampire Diaries novels. The Secret Circle stars Britt Robertson (Life Unexpected), Thomas Dekkar (Terminator: The Sarah Connor Chronicles), and Gale Harold (most recently on Hellcats).
Now we have a six minute long trailer, which reveals a lot of important details about the pilot episode. It begins with Robertson's character, Cassie. Driving home one night, she gets a flat tire. Her mother, at home alone, is killed in what's meant to look like an accidental house fire. The man who killed her? Well, you can clearly see him below.
Now an orphan, Cassie moves to her mother's old hometown of Chance Harbor, Washington to live with her grandmother, Jane. But she immediately attracts the attention of several fellow students, who all turn out to be witches. When they reveal her own lineage to her, she's understandably skeptical, but they want her to join their circle of witches.
The Secret Circle will be airing on Thursday nights in the fall, after The Vampire Diaries (Nikita has been moved to Friday nights at 8:00 p.m.) Below you can view the 6 minute trailer, as well as a few sneak peeks that were also recently released.
clarissa @ tvovermind.com
twitter.com/clarissa373
twitter.com/tvovermind