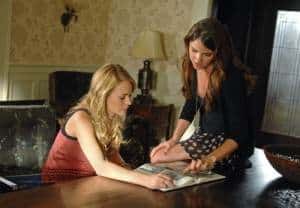 The Secret Circle is a CW show. More specifically, it's a high school CW show, so there are going to be school dances. Probably a lot of them. The first will take place in the September 29 episode, entitled "Loner".
Cassie continues to be attracted to Adam, but a cute boy named Luke invites her to the school dance. After she witnesses Adam and Diana together in the boathouse, she decides to accept Luke's invitation. Adam, despite having a girlfriend, gets jealous when he finds out that Cassie and Luke are going to the dance together. But it looks like things take a dangerous turn at the school. Faye's mother, Dawn, finds out that a man from their past named Zachary (guest star Dave Baezz) is in town, asking questions about Cassie and the Circle. Afraid of what could happen, Dawn asks Charles to keep an eye on Zachary. Unfortunately, it looks like Zachary catches up to the kids.
Faye, meanwhile, continues to try and get a handle on her growing powers, while her sidekick Melissa tries to get her hands on Nick.
To view photos for the September 29 episode of The Secret Circle, click the arrows above.
A new episode of The Secret Circle will be airing this week on September 22. View photos for the episode here.