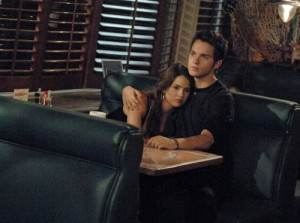 Cassie will be pulled in different directions in the October 13 episode of The Secret Circle. In the episode, Cassie realizes how difficult it is to be loyal to both the Circle and her grandmother when she's forced to keep the secrets of her witchcraft from her grandmother, Jane.
Meanwhile, Melissa is determined to track down her own family's Book of Shadows and asks Nick to help her search for it. Faye also helps at Melissa's urging but feels like a third wheel.
Diana asks Adam for some alone time and decides to arrange a private date night for the two of them. Unfortunately, it's interrupted when "a dark force that threatens to destroy the Circle from within" and the Circle must come together to fight this evil.
Dawn and Charles are, unfortunately, unaware of the new danger that the kids are facing, and meet to discuss their own plans for the Circle aboard Charles' boat. But does he have more than business on his mind?
And don't forget about a new episode of the show tonight. Read spoilers from Britt Robertson and Phoebe Tonkin about tonight's episode here. Make sure to check back for more spoilers from our recent visit to the Vancouver set of The Secret Circle.