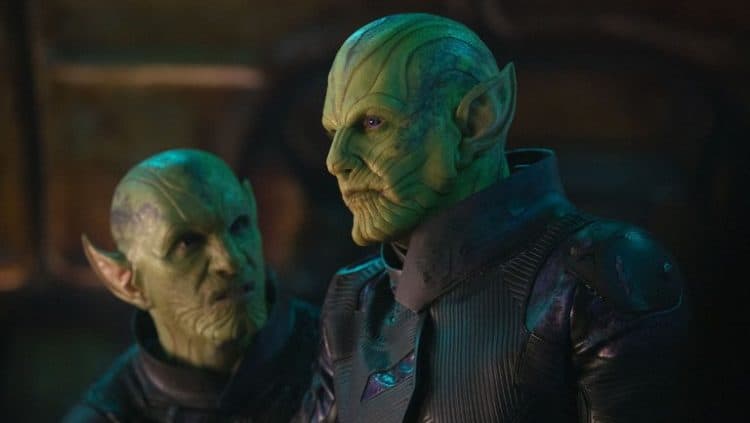 Secret Invasion was a strange time in the Marvel universe and it likely would be again given that the large number of heroes that were involved still hasn't been established as much as some would like to see since the MCU is still working on bringing enough of them to bear so that the roster can be chock-full of big names and even the backup heroes that have been involved in a great number of skirmishes that have transpired throughout the years. For those that don't know, the Secret Invasion arc was one that saw the Skrulls infiltrate earth by taking on the forms of several superheroes in an attempt to overthrow the planet. Christian Bone of We Got This Covered sums up the story as well but has more to say about the project. Needless to say things got messed up very quickly as the heroes and even the villains found themselves facing off against the Skrulls as more than one battle commenced before the shapechanging aliens were finally defeated and sent packing. This idea is apparently coming to Disney+, where it will hopefully make use of the wide number of heroes that are already around and possibly the villains that are still alive and kicking. With all that's happened throughout the last several phases however it's going to be a wonder just who's still standing and what ideas the producer will make use of since according to what we've seen in Captain Marvel the Skrulls are really just misunderstood and are looking for a homeworld to call their own. In the comics, Galactus destroyed their homeworld, causing them to seek out another before clashing with earth. The Illuminati were also a factor in angering the Skrulls as they advised the race not to mess with earth again. But in the current time line it's enough to think that something really messed up is going to have to happen to turn the Skrulls into the evil and dominant force that a lot of us can remember from the comics.
The whole idea of making them a misunderstood race felt like one giant mistake since it took the source material that a lot of us that read the comics remember and turned it on its ear to show us that they're not really bad, they're just sentient beings trying to survive like anyone. That wasn't the general feeling in the comics since the Skrulls were conquerors and were definitely war-like, every bit as much as the Kree have been throughout the years. So while a Secret Invasion arc could be insanely cool and could pull together a lot of talent for another big to-do, it's still something that has yet to be figured out since what's come before would make a pretty big argument against the Skrulls suddenly turning bad, unless of course it was banking on the idea of the Illuminati starting something after discovering the Skrulls' presence on earth, meaning that the earth-bound heroes would be the aggressors and might make something out of nothing. That sounds like an odd idea doesn't it, making the heroes the antagonists? It wouldn't be the first time it happened in cinema (yes Mr. Scorsese, CINEMA), but it would be kind of off-kilter for an MCU show it feels, no matter that people are likely salivating just thinking about it.
With a small host of shows already coming to Disney+ it's likely that this will be considered just one more by a lot of folks that never read the comics, but for those that have been fans of the Marvel universe for years and know just what Secret Invasion could possibly mean, it's bound to be a reason to keep the subscription and even wait patiently for the show to come along. The idea that it will be connected to Captain Marvel 2 in some way isn't a big revelation since without the first movie a lot of people wouldn't even know about the Skrulls as of yet. But thinking about when it might come out is a little hard at this point since if anyone remembers, Secret Invasion brought up a lot of familiar faces, some that haven't been introduced yet into the MCU, so it's possible that it might start up at one point but not be ready for release until the MCU is ready to unveil a few more characters that were vital in a big way to the story. It would make a lot more sense to start thinking about the heroes that the MCU wants to introduce so as to make this show a little more complete and a lot more impressive to the fans who are wanting to see the roster continually expand. Whether or not Secret Invasion will follow the source material that closely is still a big question since as mentioned a lot of characters have yet to be brought on to the MCU. But barring that, there's still a chance that the story we remember could be altered in a way that might not fit with what people want.