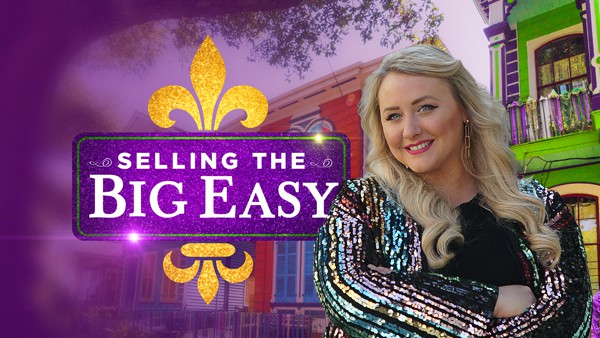 New Orleans is easily one of the most well-known cities in the United States. It's well-known for it's rich culture and diverse history. Now, HGTV is trying to make it known for its real estate, too. The network's new show, Selling the Big Easy follows a local real estate agent named Brittany Picolo-Ramos as she and her team work hard to sell properties across the city. Viewers will get the chance to see what makes New Orleans such a unique city while also getting a peak at the area's real estate market. On top of that, Brittany's personality brings a fun and upbeat element to the show. Keep reading for 10 things you didn't know about HGTV's Selling the Big Easy.
1. Season One Consists Of 14 Episodes
Due to COVID-19, productions across the entertainment industry have been shut down which means there's been a shortage of new content. On top of that, many of the new seasons we have gotten have been cut short. When it comes to Selling the Big Easy, viewers can rest assured that they'll get a full length season that consists of 14 episodes.
2. Viewers Will See Some Historic Homes
New Orleans' history and culture draws in countless tourists every year. Now viewers will get a chance to see those things from a real estate and architectural perspective. Brittany's real estate company focuses specifically on lavish older homes throughout the city, many of which have cool histories.
3. Brittany Is A New Orleans Native
Who better to star on a show about selling homes in New Orleans than someone who was not only born and raised there, but has lived there her entire life? Brittany Picolo-Ramos is a proud New Orleans native who couldn't imagine living or working anywhere else.
4. The Idea For The Show Came About
It's always interesting to learn how a reality TV series came about, and the story of Selling the Big Easy shows that show ideas can come from the simplest encounters. When asked how the show came about, Brittany said, "I got a call from a friend who stages homes saying that HGTV wanted to use one of my listings on their show about home staging. At the property that day, I was just talking with the executive producers about the city and asking them if they had been to any restaurants yet. I love to make people laugh, so I was joking around with them and one of the producers said, "Oh, you're so funny!" and I replied, "I know, I should have my own show!" And she agreed! "
5. HGTV Is Doing A Sweepstakes For The Show
Everybody loves the chance to win some money, right? HGTV and Selling the Big Easy are giving that chance in the form of a sweepstakes. All viewers have to do is tune into the show each week and keep an eye out for a six digit code. By entering the code on the HGTV website, you will be entered to win $5,000.
6. Brittany's Team Also Helps Clients Stage Houses
When you're showing a home, looks are the most important factor. Walking into a visually unappealing home can quickly make a potential buyer turn around and walk right back out. Fortunately for Brittany's clients, her firm also stages homes to make them look their best while on the market.
7. Brittany's Husband And Brother Are Also Cast Members
Brittany isn't the only person in her family with a knack for real estate. Her husband, Marco, is the co-founder of their real estate company, Godwyn & Stone and he will also be making appearances on the show. Brittany's brother also works for her and is an important part of the team.
8. The Show Focuses On The Buying And Selling Process
A huge part of the show will be Brittany helping people find their dream home in NOLA, but that isn't the only thing viewers will get the chance to see. Brittany will also be working with clients who are looking to sell their homes. This will allow the audience to get a good idea of how property values in the area work.
9. You'll Get Some Design Ideas
Since COVID-19 has left most of us spending way more time in the house than ever before, many people are trying to make their homes as comfortable as possible. Tuning in to Selling the Big Easy might be just what you need to get some fresh design ideas that you can implement into your own space.
10. There's Plenty Of Comedy
Sure, the focus of the show is all about real estate, but Brittany Picolo-Ramos makes sure there's never a dull moment. Her laid back approach to working with clients means that there are lots of light hearted and fun exchanges that will leave viewers laughing and feeling entertained.