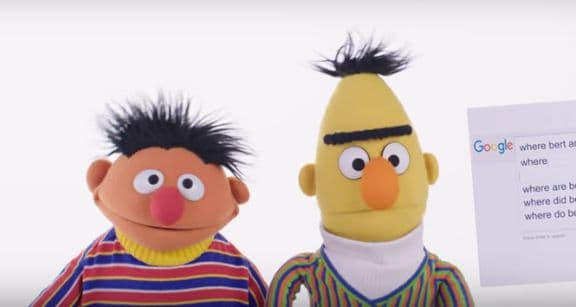 Sesame Street is one of the most popular children's shows on television and has been for decades.   Give its popularity you can only imagine how many Google and other searches per day the show actually gets.   According to SEMRush the term "Sesame Street" gets around 301,000 monthly searches which equates to 10,000 a day.  That doesn't include other terms like "Big Bird," "Bert and Ernie," "Elmo" and thousands of other terms.  We're probably talking close to a million searches a day if you add them all up.
Bert, Ernie, Elmo, Big Bird, Oscar The Grouch, The Count, Cookie Monster, Grover, Rosita and Abby Cadabby were all rounded up to answer questions like how they get celebrities to be on the show, what species Big Bird is and just how one gets to Sesame Street.
But just so you know the producers of this video were very careful in the words used in searches.  As AV Club expertly pointed out, they were careful to give Bert and Ernie a question that started with "where" rather than "are", and for a good reason. The most popular question about Bert and Ernie is whether or not they're gay, and that's probably not something they're going to address directly, though it really shouldn't be a big deal at this point.
Anyway, you should get a kick out of this video below: