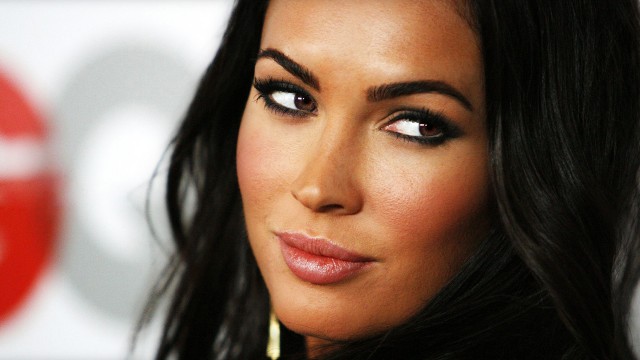 Most of us movie, music and television fans are made to believe that our favorite celebrities are perfect in just about every way possible.  At least that's what the perception is.   By no means do I mean socially perfect.   God knows that celebrities don't lead the most usual personal lives. However, appearance wise there's a ton of pressure for them to look a certain way.   What I'm getting at is that flaws are generally not the norm when it comes to celebrities.  In general we see them as physically superior to most people.  However, this is not always the case.
Here are seven celebrities with strange physical flaws.
Megan Fox's Thumbs
Megan Fox was born with a condition called "brachydactyly" thumbs, which means that her thumbs are slightly clubbed or misshapen.  Gee, something tells me this won't get in the way of millions of men swooning over her.   In fact I'm sure there are some fetishists out there who dig the thumbs.
Andy Garcia's Shoulder Twin
Andy Garcia was born with a conjoined twin attached to his shoulder.   Doctors removed the fetus when Garcia was a toddler and he doesn't remember the surgery.   Question.  Have we ever seen Garcia's shoulder in a movie?
Vince Vaughn's Thumb
When Vince Vaughn was only seventeen he got into a car accident and his thumb was severed.   He lost the tip of his thumb this giving it an odd appearance.
Billy Corgan's Blotchy Hands
Smashing Pumpkins lead singer Billy Corgin was born with a large port-wine stain birthmark, or Klippel-Trenauney syndrome (KTS), covering most the palm and fingers of his left hand.  Something tells me that this is actually a good thing for his career.
Joaquin Phoenix and his Faux Cleft Scar
Most people think that scar on his upper lip is the result of surgery removing a cleft palate.  Most people with that condition get it removed thus having the weird scar.   However his scar was formed in the womb and is called a microderm cleft.  It's au naturale.
https://www.youtube.com/watch?v=zfIHSnlgOFg
Jennifer Garner Overlapping Pinky Toe
I mean how often are you really looking at one's feet?  Not too often.  Garner has brachymetatarsia, a condition in which one of the five long bones of the foot is shorter than the others, resulting in a shortened toe and an overlap.
https://www.youtube.com/watch?v=k3Hu2FfpyHM
Dan Aykroyd Has Webbed Toes
Just check out this video.