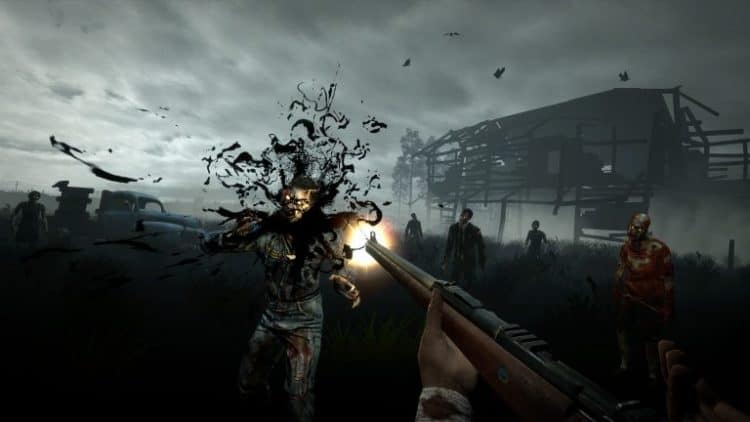 Every mobile gamer has a favorite endless runner. Some people are partial to the Indiana Jones-inspired Temple Run. Others can't get enough Jetpack Joyride, an explosive side-scrolling kawaii runner set inside a laboratory of mad science. Personally, I'm a big fan of PikPok Games' brilliant zombie-filled runner Into the Dead, as close to an Evil Dead endless runner as I could find… until now. Taking all the right cues from Into the Dead, Boomdash Digital's Evil Dead: Endless Nightmare is a free-to-play endless runner crawling with Deadites.
Here are some more mobile treats of the endless variety.
Subway Surfers
Kiloo's Subway Surfers gets three-lane running gameplay just right. Play as Jake, Fresh, or Tricky, or one of the many unlockable special characters. Run from the grumpy Inspector and his dog, dodge oncoming trains, kick out the jams on a hoverboard, and soar high above the tracks with the help of a magic pogo stick and spring-boots. It might look and sound like a cute game for kids, but beneath its kawaii facade, there's a ruthless runner with a variety of game modes.
Subway Surfers is available for Android, iPhone, and Windows 10 phone, and Kindle. It's free-to-play.
Slashy Souls
An official companion to the Souls games, Gamestop and Bandai Namco's Slashy Souls is a Darks Souls III tie-in that nobody expected. Imagine Dark Souls as a sidescroller. (Points if you're picturing Ska Studios' Salt and Sanctuary.) Now give it SNES graphics. (Double points if you're picturing Ghosts 'N' Goblins.) Now, add endless runner gameplay mechanics, put it on a tablet, and make it free-to-play.
That's Slashy Souls. It's dark, bleak, bloody, and frustrating. The odds are stacked against you. You will not survive.
Slashy Souls is available for Android and iPhone. Praise the Sun.
Dash Quest
In the tradition of NimbleBit LLC's 2013 ARPG-Snake hybrid, Nimble Quest and Phantom Compass's pinball-rpg mashup Rollers of the Realm, Tiny Titan Studios' Dash Quest combines two genres into one great game. Fight monsters, get loot, level up, and slay the Lich and his minions. Unlock the hero and legendary modes for a serious, thumb-cramping challenge. I have lost hours to this game and I plan to lose many more.
Made with Unity and packed with spells, gems, potions, coins, enchanted swords, and unlockable content, Dash Quest is a free-to-play tour-de-force in innovative thinking. It's also your new addiction.
Dash Quest is available for Android and iPhone.
The Collider
The Collider from Shortbreak Studios s.c. is an endless runner that puts you in control of a pixel-sized particle in a massive particle collider. It's the endless runner genre's answer to the Large Hadron Collider. Its touch sensitivity options allow for a degree of control that few runners can match. Whiz through space at the speed of science in this free-to-play minimalist masterpiece.
Like Sirnic's chemistry puzzler Atomas, The Collider is all about tried and true gameplay mechanics, no labcoat required.
The Collider is available for Android and iPhone. It's free-to-play or you can pay one dollar for an ad-free version. It's also on Steam. The Collider 2, an action-packed sequel with VR compatibility (and spaceships?), is available for Windows and Linux.
Temple Run 2
Released in 2013, Imangi Studios' Temple Run 2 is to endless runners what Super Mario Galaxy 2 on the Wii U is to Super Mario Bros on the NES. It's the series' underappreciated masterpiece, with new features, grander set-pieces, and more precise controls. Temple Run 2 sports an updated, improved version of the swipe and tilt gameplay that made the original a classic. Two things Temple Run 2 has going for it that Super Mario Galaxy 2 doesn't? It's on mobile and it's free-to-play.
Temple Run 2 is available for Android, iPhone, and Windows phone.
Last Knight HD
Like Evil Dead: Endless Nightmare, Toco Games' Last Knight HD is an iPhone exclusive but that's where the similarities end. You're a silly knight. You ride a goofy horse who runs like a marionette of a pony. Last Knight HD is more like Army of Darkness, Evil Dead II's bonkers time-traveling sequel, in terms of tone, setting, and slapstick medieval style. It's a runner with a ton of absurd content, including unlockable characters and game modes. Choose from third- and first-person perspectives.
Last Knight HD goes for $1.99 on iTunes. Don't have an iPhone? A controller-friendly PC port is available on Steam.
Fotonica
Santa Ragione's Fotonica is a vector-based first-person runner-platformer hybrid. Bright and stylish, this game creates an incredible sense of speed and depth using a black background, whitish pixel-width vectors, and giant pink dots that smash into shards when you collide with them. Fotonica's touch-and-release control scheme (touch to land, release to jump) prove quality gameplay is about the right kind of simplicity. Its procedurally generated endless mode is one of the best around.
Fotonica goes for $2.99 on iTunes and Google Play. A PC port is available on Steam, Ouya, and iOS.