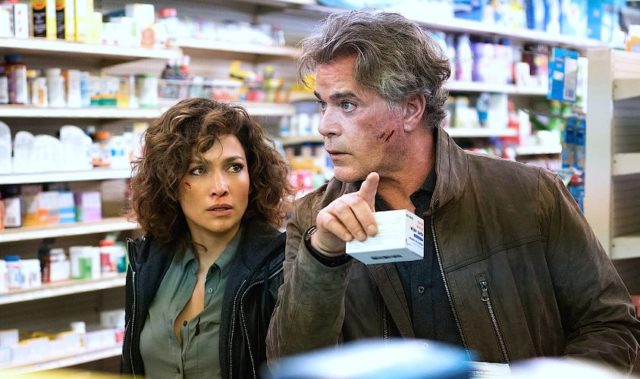 An extremely underrated cop drama Shade of Blue premieres its second season tonight on NBC.  In the Season 2 premiere, Harlee takes drastic measures to cover up the murder of her abusive ex, Miguel; and Wozniak makes a deal with Stahl to keep himself and his crew out of jail, but soon discovers Stahl has led him into an impossible trap. In other events, as the crew deals with the fallout from the failed heist, Tess struggles to keep her painful gunshot wound under wraps.
So we've got that plot which is sure to be interesting enough. But I wanted to talk about the real reasons you should be watching this show.  Other than the writing, directing, subject matter, and all that other fun stuff, there are two very simple reasons you should be watching this show on a regular basis:  Ray Liotta and Jennifer Lopez.  Let's talk about each for a second.
Ray Liotta
What else does Ray Liotta have to prove as an actor?  Not a thing.  Which leads me to believe he's in this role because he likes it.  And if any of you saw the first season you'll know that Liotta takes this role quite seriously and is excelling at it beautifully.   Plus throw in the entire homosexual twist and it makes the story twice as interesting.   But honestly, did Ray Liotta even have to do anything after Goodfellas?  I mean that movie is a mic drop in and of itself.  But Liotta continues making great films and showing his range as an actor.  I personally loved him in Copland so we knew his twisted cop act could be repeated.  And he's repeated it in a big way.  I hope Shades of Blue gets the accolades it deserves.
Jennifer Lopez
What else does this woman have to prove other than that fact that age means absolutely nothing and you can keep looking better every single year you live?  Did anyone see how good Lopez was on Shades of Blue last season?  You want to talk vulnerability and hard issues?  This is far and away one of the best characters she's ever played and if there's one person who has nothing to prove anymore in her career it's J-Lo.  But something tells me she's gunning for an Emmy this year and I wouldn't be surprised if she wins one.
If you're not watching this show, give it a try.
*I haven't forgotten about you either Drea De Matteo.  You're also awesome.