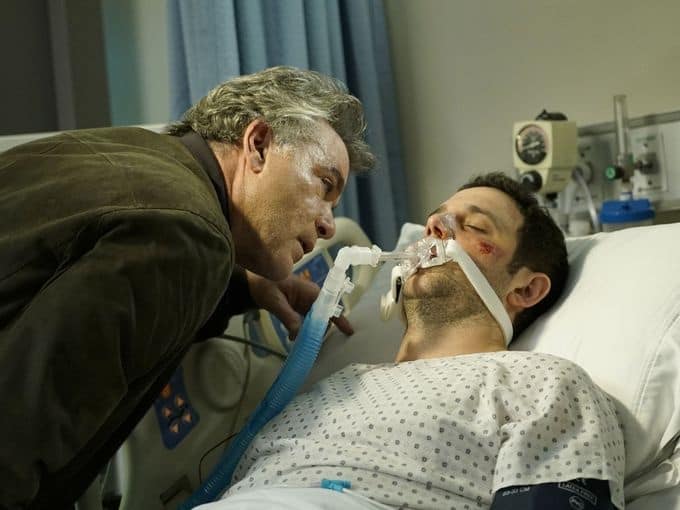 I knew that they would hit a wall eventually. Every episode of Shades of Blue that I watched got increasingly more interesting…until today. This episode decided to bring its focus around one event, which often works out for a series. In this case, however, it did not.
This week on Shades of Blue: Everyone deals with the fallout from Saperstein's fall. Tufo looks into Saperstein's personal life. Wozniak does his best to keep everyone at bay, as he is responsible for Saperstein's fall. An internal meeting is conducted investigating the incident at the parking garage. The FBI ramps up their investigation against Wozniak. Harlee returns to see Miguel.
See, the description even makes it sound boring, doesn't it? I was a little compelled at the beginning, but that's because the Saperstein incident was actually quite interesting. Then, I realized that they were going to spend the rest of the episode in turmoil over whether or not Saperstein should be killed. It was all centrally focused, but that caused several interesting characters to have nothing to do. And the story didn't really stretch well enough to cover a whole hour-long episode.
I mostly thought this anyway, but now I'm definitely certain that Jennifer Lopez carries this show on her back. She's quite impressive, and able to wear the many hats of Harlee Santos with grace and exquisite screen presence. For the most part, I think the writers and creative team failed her in this episode. She elevated the material to "watchable"…but just barely. Ray Liotta is pretty good, but his performance is getting a little one note.  Must find mole. Must kill mole. Must lie to everyone before day is over. Again, that is likely the fault of the creative team, but Liotta doesn't elevate the material quite like Lopez.
Ultimately, this episode tried to have better focus but it backfired. There was really no rhyme or reason to anything that happened. It seemed like it set up several things that could pay off down the line, and I really hate that. I'm okay with planting things to pay off later, but there was no action to speak of in this episode. You can have all the setup you like for future installments, but this one had no meat to it. Not even a little bit. It's really not much use having great actors like Lopez and Liotta if they're going to be squandered when the intensity isn't maintained.
Mostly, this show has surprised me. It did way better in the ratings than I ever expected, and I imagine it will continue to do so. Lopez and Liotta are strong, and this show has several interesting plot elements to it. They also (spoiler) killed off Saperstein, which I did not expect. I definitely expected the saga of incapacitated Sap to continue for a few more episodes at least. I'm always impressed by a show unafraid to kill off its characters.
This was the worst episode I've seen yet, but there is still plenty of promise in this show. Not every episode in the first season will be perfect, and I'm not turned off enough to quit watching yet.
What did you guys think? Did you enjoy the episode? Let us know in the comments!
Shades of Blue airs Thursdays at 10/9c on NBC
Shades of Blue Season 1 Episode 7 Review:
Summary
The FBI moves closer to Wozniak in this week's lackluster Shades of Blue