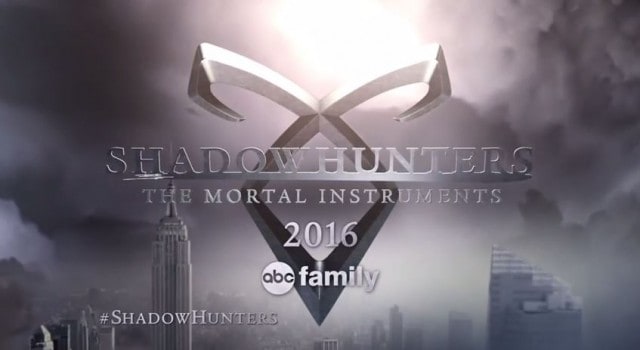 Fans eagerly anticipating the premiere of Shadowhunters on ABC Family (soon to be called Freeform) still have a few months of waiting ahead of them. However, the cable network is giving viewers a sneak peek at what they can expect from the new series through the Shadowhunters' Snapchat account (TVShadowhunters).
Through the show's Snapchat, ABC Family has been sharing short clips from Shadowhunters, teasing action-packed moments from the show, which is based on Cassandra Clare's Mortal Instruments book series. And, as to be expected in this age of the internet, someone has put all the footage together for one fully completed promo that Shadowhunters fans can watch.
Check out the full, minute-long trailer below:
Additionally, Shadowhunters will have its own panel this weekend at New York Comic-Con. The entire cast of the upcoming series will take the Empire Stage on Saturday, Oct. 10, at 11 a.m. to reveal exclusive footage from the supernatural drama. Shadowhunters stars Katherine McNamara (Clary Fray), Dominic Sherwood (Jace Wayland), Harry Shum Jr. (Magnus Bane), Alberto Rosende (Simon), Emeraude Toubia (Isabelle Lightwood), Matthew Daddario (Alec Lightwood) and Isaiah Mustafa (Luke Garroway) are all set to appear, along with showrunner Ed Decter, executive producer McG, and Mortal Instruments author Cassandra Clare.
For those unfamilair with the source material, Shadowhunters follows 18-year-old Clary Fray (McNamara), who finds out on her birthday that she is not who she thinks she is but rather comes from a long line of Shadowhunters — human-angel hybrids who hunt down demons. When her mother, Jocelyn (Maxim Roy), is kidnapped, Clary is thrown into the world of demon hunting with mysterious Shadowhunter Jace (Sherwood) and her best friend, Simon (Rosende). Now living among faeries, warlocks, vampires and werewolves, Clary begins a journey of self-discovery as she learns more about her past and what her future may hold.
Shadowhunters is slated to premiere in January 2016.
[Photo via YouTube]