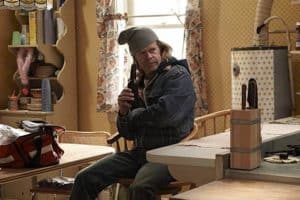 I have never been one for watching the series' that ran on Showtime. I've seen 2 episodes of Dexter and bits of Californication, but I never really found that they kept me coming back for more. Well, Showtime has changed that with Shameless. Even from the previews alone I was hooked, and the pilot episode made it clear that this was a show worth sticking around for.
The shows first episode allowed us to get in touch with the characters we will see every episode and as the title suggests, each member of the Gallagher family has their own shameless quirks. Frank Gallagher (portrayed amazingly by William H. Macy) is not your run of the mill father. From his drinking problem to his abuse of disability, you actually seem to root for him as a person. Fiona Gallagher (Emmy Rossum) is the oldest Gallagher kin and due to no mother around, she assumes all the motherly (and fatherly) duties at the house. From that, we get a great scene where Fiona makes every child in the household put money in just to pay the electric bill. Ian Gallagher (Cameron Monaghan) seems to be the most grounded family member yet he hides the secret of his homosexuality. Phillip "Lip" Gallagher (Jeremy Allen White) is the Gallagher wild child and gets into all sorts of trouble from tagging police cars to gaining sexual favors from his tutoree. The other Gallagher children were not really explored, but we can almost assume that Debbie Gallagher (Emma Kenney) has some other quirk than stealing from Unicef.
Besides the Gallaghers, Shameless has some great supporting characters. Kev and Veronica (Steve Howey and Shanola Hampton respectively) are the loud and crazy neighbors of the Gallaghers. Both actors are great in there roles, and the back and forth talk between Frank and Kev is great. Mandy Jackson (Jane Levy) and Shiela Jackson (Joan Cusack) are the family who gets caught in the crosshair of the antics of Lip, as Mandy is the Lip is tutoring. Shiela is oblivious to what is going on around her and that in turns leads to some great humor. Finally, Steve (Justin Chatwin) is the new man of the group and more importantly, the "boyfriend" of Fiona. We are led to believe at first that Steve is just a normal guy who holds no secrets. However, by the end of the episode, we learn that his "job" entails him to steal fancy cars and then just go sell them.
Throughout the episode we were shown some great stories that are bound to resurface later. The first of which is Ian coming out of the closet to his brother. Many a times we see in shows where if a character is gay, the writers make that charcter and those around him stay the same. What I really found great about Shameless, is that they dealt with Ian's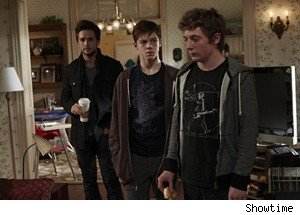 homosexuality in a more natural way. Lip dealt with this revaltion like a normal brother would. Yes, he resorted to some harsh remarks, but in the end he accepted his brother for who he was. It takes heart to do that and I applaud Shameless for this.
Another story that we are likely to see come up more is that of Shiela and Mandy. After learning that his daughter Mandy was giving out more than money at tutoring, Eddie Jackson (Joel Murray) decided that this was enough and left the family, taking away his horribly creepy clown memorabilia. This left Shiela as clueless as ever. While we were given a breif glimpse in the Jackson lives, I only wish we could have seen more of at least Shiela. From the moment she appeared on screen, Cusack stole the scenes she was in. Her portrayal of Shiela as an over the top neat freak obsessed with cooking shows was great.
My only main concern with the pilot was that there was very little about Frank. I have to admit the reason I was drawn to the show was because of the way Frank was shown even on the previews. Granted, this episode served as a jumping off point to introduce us to the Gallaghers but, isn't the show supposed to be about Frank? Maybe I just misinterpreted the way the show was going to be viewed.
Being an adaptation of a British show can sometimes bring a series down. Shameless on the other hand is able to ride full force straight through and place itself at the same bar as its original predecessor. A
Disagree with my grade, love the show, or just want to talk more about Frank's drunken rants? Sound off in the comment section below or on the Shameless boards.