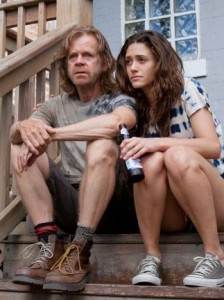 Shameless season 2 returns with its sixth entry in this week's "Can I Have a Mother," as Frank Gallagher's mother Grammy Gallagher returns from prison on a medical furlough, while Fiona goes on a double-date with the returned Steve (Justin Chatwin) and his lovely new Brazilian girl, and the beneficiary of Eddie Jackson's will is finally identified. After last week's "Fathers Day," and Steve's less-than-dramatic return, will the former car thief be able to square his troubles with the law, let alone Fiona, before it's too late?
Frank Gallagher has always been a complete scoundrel to his friends and family alike, so is it even possible that his mother would be worse? Well, I guess she'd have to be to wind up in prison for blowing up her own meth lab! But Grammy isn't the only thing on Frank's mind this week, as he tries to put together a scheme for what to do with the money left by Eddie Jackson's will.
Meanwhile, Fiona reacts to the sudden re-appearance of Steve, complete with his Brazilian conquest Estefania, and even young Ethel has her own matters to deal with when her sister wives reveal the fate of their husband Clive in prison! Sheila has her own event to plan, now that her daughter Karen has eloped with Jody, still carrying what's likely to be Lip's baby. But with all the pressure placed on their home by Frank for a piece of Eddie's life insurance money, Sheila might not be taking so kindly to Frank's advances, particularly given the above photograph of Fiona actually comforting her father.
Check out a fresh look at tonight's Shameless "Can I Have A Mother" as Frank schemes about Eddie's money down at the Alibi, only to find himself face to face with his own mother, newly released from prison! And don't forget to watch Shameless tonight at 9pm on Showtime, followed by an all-new House of Lies and Californication.