Shameless season 2 gets a little older with its sixth entry in this week's "Can I Have a Mother," as Frank Gallagher's mother Peg Gallagher (Louise Fletcher) returns from prison on a medical furlough, while Fiona goes on a double-date with the returned Steve (Justin Chatwin) and his lovely new Brazilian wife, and the beneficiary of Eddie Jackson's will is finally identified. "Can I Have A Mother" has a lot of ground to cover, but makes for a strong, if somewhat depressing hour.
I didn't get a chance to talk about last week's Shameless, or the seemingly monumental development of having Justin Chatwin officially return as 'Steve,'but that really wasn't what 'Fathers Day'was all about. Even now with 'Can I Have A Mother,'Steve's return feels largely overshadowed by the arrival of Grammy Gallagher (Louise Fletcher), whose vindictiveness seems to eclipse even Frank's. Shameless seems intent on providing obstacles for Fiona and Steve anyway, to what end we can't be sure, but more on that a little later.
'Can I Have A Mother'was co-written by William H. Macy himself, and sets out to address some of the more troubling aspects of Shameless characterizations, most notably that of Frank Gallagher. The American Shameless has taken a bit of flack in its first and second seasons for the balance between hard-hitting drama, and wild characterization, particularly the more cartoonishly deplorable Frank, so the question had to be poised; could they humanize Frank by introducing someone worse?
The sudden arrival of Peg 'Grammy Gallagher'almost immediately answers that question, painting her as alternately sweet to her grandchildren, horrifically depraved, and totally dismissive of Frank, to the point where we almost sympathize with the man who seemingly can't catch a break from anyone. Frank is still Frank, and trying both to manipulate Sheila into giving him power over Eddie's life insurance settlement, and skimming what he can from his mother's blackmail of a former meth partner, but it shows new sides to Frank in the way he cowers from his vindictive mother. Cruel and heartless though he may be (especially with Butterface, pun intended), he certainly earns a bit of sympathy and comfort from his daughter when we see how unsupportive his mother's been since birth. It'd take quite a bit to redeem Frank from some of the depths he's sunk to, but at least for now (as she appears to be staying), Grammy Gallagher gives us a good lens with which to view Frank's actions, so kudos to William H. Macy on expanding his character.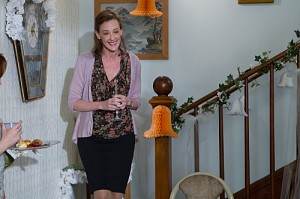 'Can I have A Mother'belongs just as much to Sheila (Joan Cusack) as to Frank, who continues to display strong character even with her naiveté and debilitating agoraphobia. I'm continually impressed with the way Shameless' writing manages to make the character blissfully compliant, but capable of great strength as she stands up to Grammy Gallagher at Karen's wedding reception, or evicts Frank for going too far with his Tantrum about Karen receiving the life insurance settlement. The airplane wheel of 'A Beautiful Mess'definitely seems to have retarded some of Sheila's development, but 'Can I Have A Mother'proves its characters to be strong no matter the confines of the setting.
Of course, one of the biggest aspects of 'Can I Have A Mother'lies in Steve's official return, as he quietly bribes Tony to sweep his last-season criminal dalliances under the rug, and makes underhanded ploys to win back Fiona. I've read a great deal of criticism for the pairing of these two, and I'm not sure I understand where the animosity comes from. Perhaps their pairing isn't the healthiest of unions, but since when has Shameless been about doing the right thing? Fiona loves Steve madly, has been in denial about her feelings all season (symbolically note how often we see her asleep, shutting out the world this season), and Shameless needn't justify what draws these characters together as a central pairing for the show. I'm not quite sure I understand why a sham marriage would bother her so much, or why either of them think they can get away with their obvious connection, but for now it's at least a strong relationship to revisit.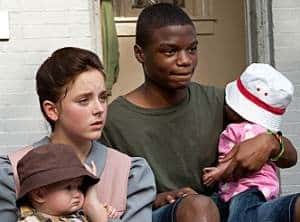 Elsewhere, Lip continues fighting with Ian over the mistaken West Point application, a seemingly innocent mistake, but one that continues testing the relationship between the brothers. Unlike the UK Shameless, Showtime's version can't as easily rotate characters in and out of the narrative, so I doubt if things ever get to a point where one of the brothers permanently exits the picture to enroll in any kind of school. Another strong story this week comes from Ethel (Madison Davenport), who seems to have permanently hopped a bus with Malik in the wake of her elder husband Clyde's death. I'm sad to see Ethel go given the humorous (and ridiculous) contrast she provides with some of the other characters, but the exit was handled with some very strong scenes for her and Kevin (Steve Howey).
'Can I Have a Mother'isn't quite as rife with humor as some other Shameless episodes we're used to, but sets up enough for the second half of a season to be a very strong outing. Watch away!
And Another Thing…
I wonder what else might be hidden away in the Gallagher household over the years, besides guns, money, and human fingers…
Of course Frank used to be a bedwetter, and keeps up the trend once his mother returns.
Seriously, will we ever come back to Kash or his wife, as long as we're spending time in the store?
What did YOU think?