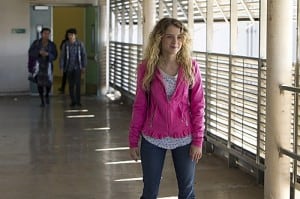 For a show built to showcase the outrageous moments in the Gallagher family's quest for survival, last week's episode of Shameless might have been the most shocking thus far, as Mandy mowed down Karen with her car in a fit of jealousy over Lip. With no witnesses to the crime and Karen at the hospital in a coma, it looks like Mandy has gotten away with it and can spend her time focusing on her relationship with Lip, but what happens when his conscience gets the best of him and forces him to go see his former flame?
On the next episode of Shameless, Lip has decided to go visit Karen in the hospital. Even though she likely won't know that he's there due to her condition, he would feel guilty in not checking on her, which makes Mandy noticeably anxious for two reasons. Lip worrying about Karen means that he still cares about her on some level and that makes Mandy feel insecure about their relationship; should Karen wake up, she's still a threat to their happiness and what could be a nice set up in Boston for the two of them. Karen getting better would also put Mandy's freedom in jeopardy, as long as her memory was in tact. We don't know how much of the incident or the argument that preceded it she'd remember, but if she does know what happened and could pin the blame on Mandy, it could be trouble.
Elsewhere on Shameless, Frank is embracing his role as a gay rights advocate, thanks to the promise of monetary compensation he received last week. He's now tasked with delivering a speech about the movement in front of potential donors that, while starting off iffy, turns into another revelatory moment for Frank and ends in applause. Frank might not believe in what he's preaching to the crowd, but it turns out that he could be the best advocate that the gay community could have asked for. But how much longer will he be able to hide the fact that he's not gay?
Shameless airs Sundays at 9:00 on Showtime.
How will Lip react when he finds out who hit Karen with the car? Is Frank right in continuing the farce of being a gay activist? Should he come clean?