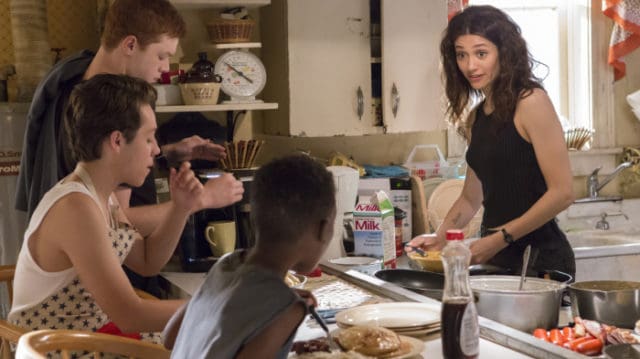 The end of Season 7 of Shameless was one of both closures and new beginnings. Monica died, Fiona had closure and buys an apartment building, Carl came back from military school, Frank gets Liam into a private school, Debbie commits to a new career as a welder, and Lip decides to get his act together. It was the end of the season, so was obviously a setup for a new round of disappointments for the Gallagher clan.
So let's take a look at some of the things we learned from the premiere:
Fiona
Fiona decided to give up meaningless, anonymous sex. We'll see how long that lasts, but her decision is understandable given that her life seems to have taken a turn for the better. Her focus is now on her newly acquired apartment building. She finds out pretty fast that it is more of a project (in more than one sense of the word) and the "handyman" is actually one of the tenants who watches out for the other people in the building doing the regular maintenance. She manages to sell her first apartment for $1,000 a month, much more than she thought.
If you remember last season, it just so happened that the guy who offered her the apartment building just happened to show up shortly after she cashed that $160,000 payoff for the laundromat. Fiona knows zilch about running an apartment building, so a question to be answered is if she has been set up.
Frank
After Monica's death, Frank is found in a Buddhist temple and is making the rounds admitting his wrongs, just like an AA member. He vows to change direction in his life, and actually dressed up in a suit. (No haircut though.) As with all things Frank, you know that any change is temporary and self-serving. So wait to see what causes him to fall off the enlightenment wagon.
Liam and Neil
These two may be the people most affected by the shameless behavior of the Gallaghers in this first episode. In Frank's quest for self-improvement he has shuffled off Liam to private school where he finds he has been accepted only to be the living poster child of diversity for the school. Frank is generally nowhere to be found; Fiona has been dropping him off at school (in her new car).
Neil has willingly accepted to do the daycare duties for Debbie's baby. In this first episode we find her working as a parking garage attendant to make some money, then rushing home to throw something in the microwave for Neil and the baby. Her day will be spent advancing her career, leaving Neil mostly alone with the baby all day.
You have one disabled person and one 6 year old child who have been set adrift and generally ignored by everyone because they are in pursuit of their own goals. Both are trapped in different ways, but Neil is the only one who can extract himself from the upcoming train wreck.
Lip
Though Lip's biggest problem seems to be alcohol, his bigger problem is that he can't keep his pants on, so he chases every woman he is attracted to. Though he offers to babysit for Sierra, he has other intentions but in the end literally runs away from the situation. He might be realizing he has to change his focus, or he might be running back to someone from the past.
The Others
Kevin finds out he might have breast cancer, Ian runs into an old boyfriend, Carl buys a hot tub for the house, and Veronica found a way to get the bar back legally (sort of). These were new events but not much time was spent fleshing out their futures. There is always next week.