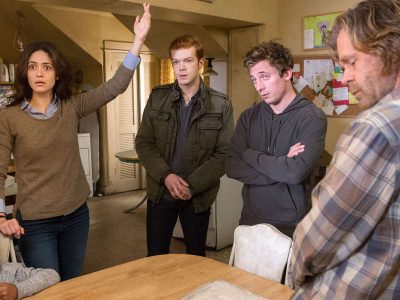 Shameless ended its seventh season on an extremely sentimental note. The episode really hit hard, as we watched the Gallaghers, who could care less for Monica, mourn their mother.
There was an amazing scene between Emmy Rossum and William H. Macy which only provided proof that Rossum should be paid the same as Macy, if not more.
This episode tied some loose ends for all the characters, and it had me tearing up at times. Fiona purchased the apartment building; Ian went back to working as an EMT; Carl and Frank paid homage to Monica via graffiti; and Lip is still going to AA meetings (go, Lip, go!). However, the episode was not without the traditional Shameless shenanigans. The family fights over seventy thousand dollars' worth of meth Monica left to them. I loved Fiona's final solution for the meth, placing it inside of Monica's casket. I also loved Carl and Ian's race down the block. Can't get enough of that brotherly bonding!
The entire funeral sequence was satisfying for such a tumultuous character on this show. The fact that Fiona couldn't stop laughing at the sight of her mother felt very true to form. Unfortunately, we don't get to hear the stories the family shares at the funeral, and that was a major let down. Fiona remarks that Monica always had a good time, and "that's something."
We get a glimpse into Frank's past before Monica in his remarks at the funeral. We learn that Frank was in college when he met her, which is hard to hear, considering Lip knows Frank could have graduated college. Macy's performance during this speech is just heartbreaking.
This season was incredible for Shameless. I hope that someone gets an award for this show, because it's a wonderfully executed show. I honestly can't wait for the next season, because like any fine thing, this show gets better with age.
[Photo credit: Showtime]
Summary
The seventh season finale ends with a funeral, and many emotions.